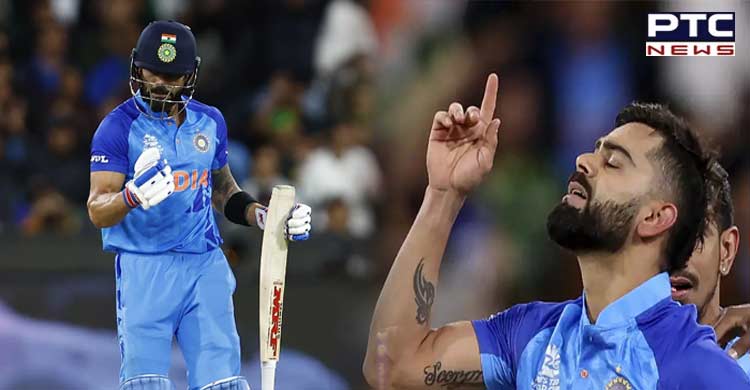 Melbourne (Australia), October 23: Following his team's stunning victory over Pakistan in their ICC T20 World Cup match, India's top batter Virat Kohli rated his match-winning effort as his best innings in the shortest format.

On Sunday, India defeated Pakistan by four wickets in their Group 2, Super 12 match at the iconic Melbourne Cricket Ground (MCG), thanks to an explosive half-century by star batter Virat Kohli and a century stand with Hardik Pandya.
"It is a surreal atmosphere, I have no words, no idea how that happened. I am really lost for words. Hardik believed we can do it, if we stayed till the end. When Shaheen bowled from the pavilion end, that is when we decided to take him down. Haris is their prime bowler, and I hit those two sixes. From 28 in 8, it came down to 16 to 6. I tried to stick to my instincts. The first one was back of a hand slower ball (the one over long-on). Standing here I just feel like it was meant to be. Till today Mohali was my best T20I innings. Today I will count this one higher. Hardik kept pushing me. The crowd has been phenomenal. You guys (fans) kept backing me and I am grateful for your support," said 'King Kohli' in a post-match presentation.
Also Read | Rishi Sunak declares candidacy to be new UK Prime Minister
Meanwhile, India captain Rohit Sharma lauded Virat Kohli, describing the batter's MCG heroics as the former captain's greatest ever. Rohit stated that it is always vital to get off to a good start, and that this win will give them a lot of confidence.
"Those two guys (Kohli and Pandya) are experienced. Staying calm and taking the game deep was very critical. Good for our confidence. Always crucial to get off the mark like this. We were in no position to win this. The way we won that's more pleasing for us. Hats off to Virat for the way he batted, has to be the best innings he has played for India. I would like to thank everyone, it's wonderful to see. Their support for us is very, very crucial wherever we go," Rohit Sharma said.
Also Read | Diwali Eve: PM Modi offers prayers at Ayodhya's Ram temple, inspects construction work
"I was in the dressing room. I don't have any words left. You got to expect something like this in a game like this. We wanted to stay in the game for as long as possible. That crucial partnership was a game-changing moment for us. The pitch had something in it. There was a nice carry. Some swing and seam. Good to see from the bowling perspective. They had a good partnership (Iftikhar and Masood) after that. They batted well towards the end as well. But we knew we had to bat out of our skin to chase this," he stated.
Also Read | IND vs PAK, T20 World Cup 2022: India beat Pakistan by four wickets
-PTC News with ANI inputs