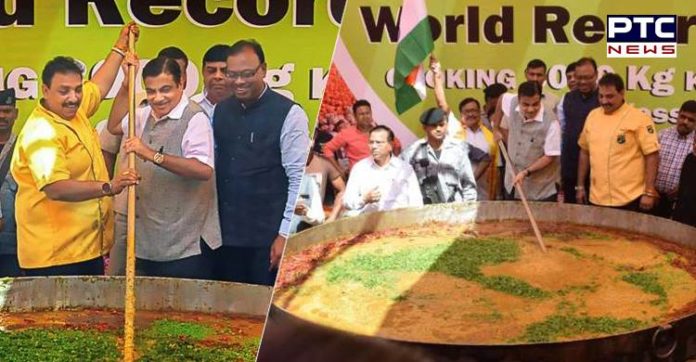 Nagpur Chef prepares 3000 kgs of Khichdi to set world record
Chef, Vishu Manohar, prepared 3000 kilograms of Khichdi in one vessel in Nagpur on Sunday to set a new World Record. He prepared this Indian dish to mark the World Food Day on October 16.
Also read: Naropa festival concludes with Guinness World Record performing Shondol dance of Ladakh
Chef, Manohar, wants Khichdi to be declared as the national dish. It is because people eat khichdi at every stage. It is also regarded as the most healthy and affordable meal.
Union Minister for Road Transportation and Highways, Nitin Gadkari, was also present at the event and congratulated Chef Manohar for his attempt.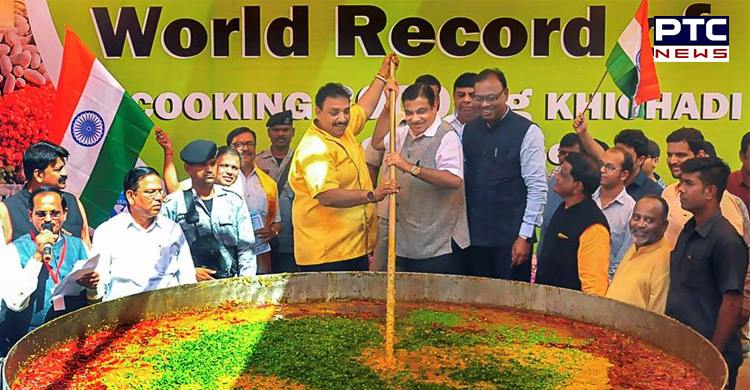 According to the media reports,  ingredients used in the making of 3000 kg of khichdi were 125 kgs of moong dal (lentils), 275 kgs of rice, 150 kgs of chana dal (pulses), 150 kgs of ghee (clarified butter), and 3000 kgs of water.
World Famous Chef Shri @VishnuChef (Vishnu Ki Rasaoi) created a Guinness World Record of cooking 3000kg khichadi. Union Minister @nitin_gadkari & MH Cabinet Minister @cbawankule, Central Nagpur MLA @iVikasKumbhare were present on the occasion.
Venue :- Chitnis Park Mahal Nagpur. pic.twitter.com/C4lw4dHxU1

— Shradha Merkhed (@ShradhaMerkhed) October 14, 2018
Nitin Gadkari told the media, "He is a celebrated chef, and I congratulate him on his record. He is making Indian dish famous worldwide, and thank him for this. He is done great work. The khichdi he made was masala khichdi, and it was very delicious."
Also Read: NY's Sikh Group Sets A World Record: Tying Over 9000 Turbans in 8 hours
A similar attempt was made by celebrity chef Sanjeev Kapoor last year in November for preparing 918 kgs of Khichdi in New Delhi. And, India entered the Guinness Book of World Record for making the largest serving of rice and beans.
-PTC NEWS