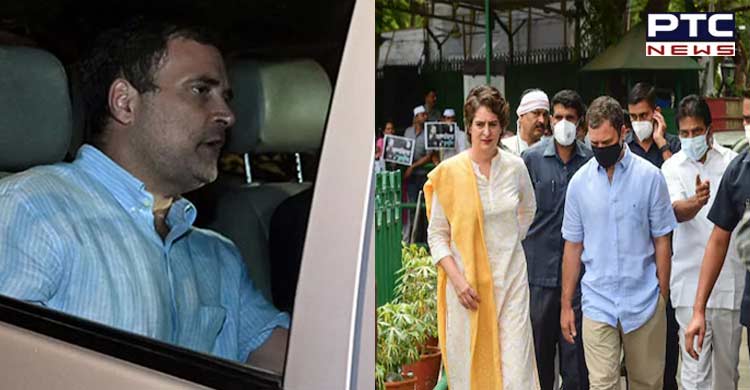 New Delhi, June 20: Former Congress president and senior party leader Rahul Gandhi on Monday rejoined Enforcement Directorate's (ED) ongoing investigation in connection with an alleged money laundering case related to the National Herald newspaper for the fourth day.

The Wayanad MP arrived at ED headquarters at around 11.10 am on Monday accompanied by his sister Priyanka Gandhi.
The Congress leader was questioned by the probe agency for over 27 hours on three straight days from June 13 to June 15. He deposed before the ED investigators in the case for the first time on June 13.
Rahul Gandhi first sought exemption from appearance on June 16, following which he was called on June 17. However, the Congress leader wrote to the agency to postpone his questioning citing the illness of his mother Sonia Gandhi after which ED then allowed him to join the probe on June 20 on his request.
Also Read | Bharat Bandh: States on high alert amid protests against 'Agnipath'
According to official sources, the Congress leader has been confronted with many documents compiled by the ED as evidence obtained so far in the investigation to get his version after the Union government revoked the Gandhi family's Special Protection Group protection in 2019.
As per reports, Rahul Gandhi has been questioned extensively regarding the Gandhi family's ownership of Young Indian Private Limited (YIL) and its shareholding pattern in Associate Journals Limited (AJL), the firm that publishes the National Herald newspaper.
The sources added that investigators in the ED have also questioned the Congress leader to describe the circumstances under which AJL was acquired by YIL in 2010, making it the owner of all assets owned by the National Herald newspaper.
Also Read | Shooting at Washington DC, police officer among those hit
-PTC News