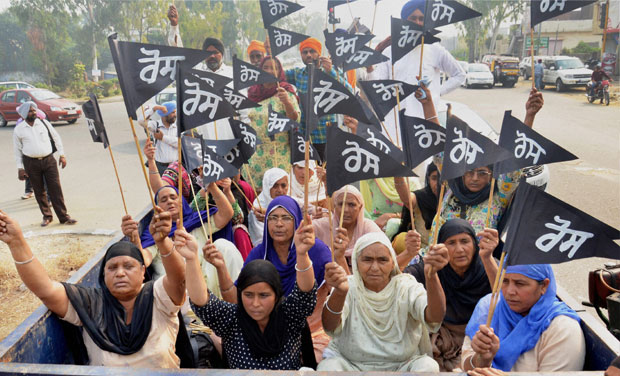 Chandigarh: Rejecting as `inconclusive' the report of the Zora Commission, the Punjab Government on Friday constituted a fresh Commission of Inquiry, headed by Justice (Retd) Ranjit Singh, to investigate all cases of sacrilege in the state.
The government, through a notification issued by the Department of Home Affairs and Justice, has included all sacrilege incidents, including those involving the Srimad Bhagwad Gita and the Holy Quran Sharif besides Sri Guru Granth Sahib Ji, in the ambit of the Justice Ranjit Singh Commission's terms of reference.
The new Commission, set up under Section 11 of the Commission of Inquiry Act 1952, has a tenure of six months.
The Commission, headed by the former judge of Punjab and Haryana High Court, will conduct an enquiry into the cases of sacrilege of Sri Guru Granth Sahib Ji, Srimad Bhagwad Gita and Holy Quran Sharif. It will also enquire into the detailed facts and circumstances and chronology of events of what actually happened and to identify as a matter of fact the role played by various persons into what happened in the various incidents of sacrilege in Faridkot and other places in the state.
Giving details of the notification, an official spokesperson said the Commission will enquire into the truth of what occurred in such incidents and factual role of the persons who may have been involved. The Commission has also been tasked to enquire into the firing in Kotkapura on 14.10.2015 and village Behbalkalan, District Faridkot, in which two persons died.
As per its terms of reference, the Commission will identify and enquire into the role of the Police officers/ officials in incomplete/ inconclusive investigations into the earlier incidents of sacrileges so far.
The notification follows the state government's conclusion, after taking into careful consideration various factors including the Punjab Advocate General's advice, that the Justice Zora Singh Commission, set up by the previous government, "has not answered the very substance of the reference i.e. an enquiry into the incident of sacrilege and the role of the police force."
In his advice, the Advocate General, Punjab had also observed that the Commission did not complete the fundamental limb of the enquiry i.e. the truth of what occurred in such incidents and the factual role of the persons who may have been involved. "The findings in the Commission are broad on such aspects and it has not named or identified precisely the role of the persons involved. Also certain aspects and issues entrusted to it remain unanswered and are not dealt with in depth to enable the Government to reach definitive conclusions," the Advocate General had concluded.
Noting that there had been further incidents of sacrilege even after the establishment of the Zora Commission, the Punjab Government felt that the "matter is of utmost public concern and importance, requiring a proper and comprehensive enquiry."