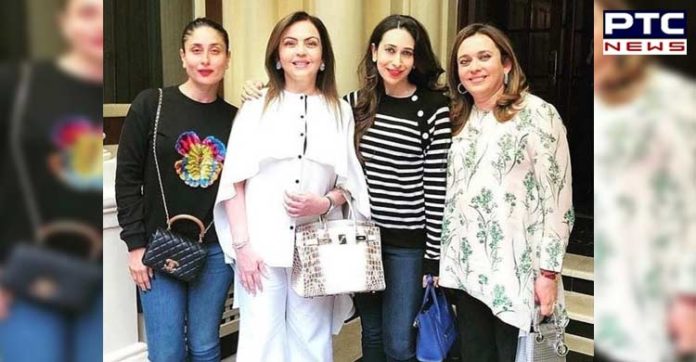 the Kapoor duo, Kareena and Karisma met Nita Ambani in London, during their UK trip.
Imagine you have 2.6 crores, what would you do? Probably buy a house, car and with of course keeping a definite amount in savings too. But do you know chairperson of Reliance Foundation, Nita Ambani's handbag alone costs 2.6 crores?
Are you also stun just as we are? Anyone would be. Hermès Himalaya Birkin bag has over 240 diamonds studded in it. Christies.com describes Hermès Himalaya Birkin bag as," Holy Grail of Handbags". Besides the 240 diamonds, the bag has 18 karat gold hardware too and is showcased by Nita Ambani in a recent picture.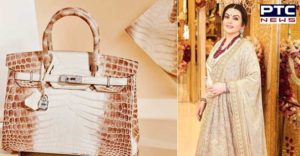 Dating back in 2017, when the bag was auctioned at Christie's, it made approximately Rs. 261500. This deal made" Hermès Himalaya Birkin bag" the most expensive bag ever sold.
Nita Ambani's Hermès Himalaya handbag is said to be made from the skin of the Nile crocodile, which makes it more exotic. The handbag is named after actor and singer Jane Birkin, Birkin bags are famous for their sky-high price tags and celebrity owners.
Also Read: Don't follow fashion, I wear what I like: Disha Patani
The luxurious Hermès Himalaya handbag of Nita Ambani has a color grading feature which means that the color of the handbag can change from smoky grey into pearly white, resembling the Himalayas. Interestingly, Hermes only manufactures a restricted number of these bags to maintain the exclusivity.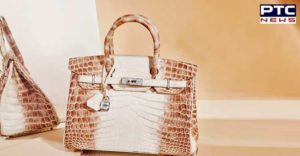 The picture of Nita Ambani with her expensive handbag is making rounds on the Internet and making people think about their salaries.
-PTC News