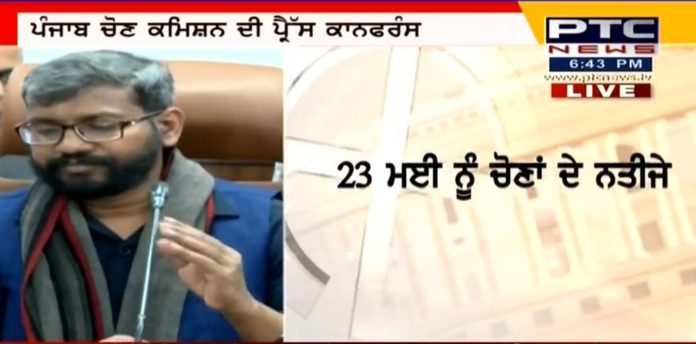 Notification for LS Polls to be issued in state on April 22,2019 says CEO Punjab,Chandigarh: With the Election Commission of India (ECI) announcing the poll schedule for the forthcoming Lok Sabha elections 2019, the Model code of conduct has come into force in the State with immediate effect. Disclosing this here today during a press conference, the Chief Electoral Officer Punjab, Dr. S Karuna Raju stated that all the 13 Parliamentary Constituencies of Punjab would go to polls in a single phase on May 19, 2019 and counting of votes would be held on May 23, 2019 (Thursday).
Notification in this regard would be issued on April 22, 2019 (Wednesday) and last date for filing nominations is April 29, 2019 (). Scrutiny will be held on 30th April and last date for withdrawl is fixed for 2nd May.
To ensure the strict implementation of the Model Code of Conduct in letter and spirit, the Chief Electoral Officer Punjab, Dr. S Karuna Raju said that directions had already been issued to all Heads of the Departments and Deputy Commissioners of the State.
Sharing further details , the CEO said that a total of 20374375 voters would cast their votes at 23213 polling stations in 14460 Polling locations.
He also informed that for the first time VVPAT would be used in all the 13 Parliamentary constituencies. He shared the detail regarding various IT application introduced by ECI.The C VIGIL app has been launched to enable the citizens to complaint against violation of MCC or any corrupt practices. All Complaint regristered on this andriod App have be redressed within 100 minutes.
Another IT App initiative Suvidha has been developed for the candidates. It is a single window for various permissions reuired during the Elections and would be dealt on line within 24 hours.He said that the Commission was committed to ensure free, fair and peaceful polls across the State. For this Static Surveillance teams, flying squads, MCC teams, VVT. VST teams has been operational all across the state to check the misuse of money power, liquor and narcotics. He said that adequate security forces will be deployed for conducting free and fair electoral process in the state.
Later, Dr. Raju also held a video conference with all the Deputy Commissioners, Senior Superintendent of Police/Commissioner of police and reviewed the preparations for the Parliamentary Elections.
-PTC News