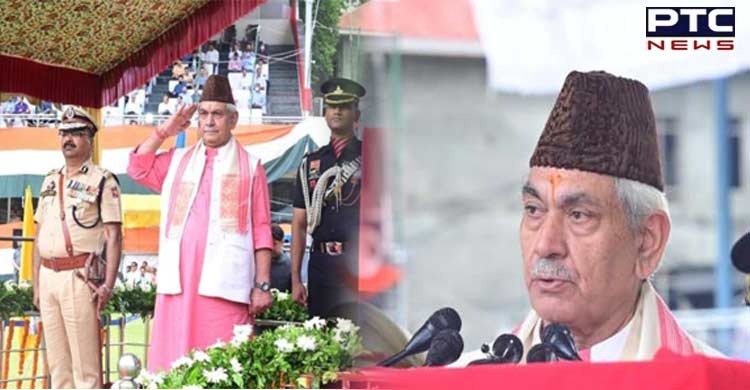 Srinagar (Jammu and Kashmir), August 15: On the occasion of India's 76th Independence Day, Jammu and Kashmir Lieutenant Governor Manoj Sinha on Monday urged the people of the Union Territory to take a pledge to make it Nasha-Mukt (free of drugs), Bhrashtachar-Mukt (corruption free) and Rojgaar-Yukt (employable).

"Jammu and Kashmir is on the move. I call upon every section of the society to make their valuable contribution to a happy, peaceful and prosperous Union Territory. On this Independence Day, let us take a pledge to make Jammu and Kashmir Nasha-Mukt, Bhrashtachar-Mukt and Rojgaar-Yukt," Sinha said.
While addressing the people of Jammu and Kashmir on Monday, Sinha continued that the administration has decided that August 5 will be celebrated as Freedom from Corruption day every year in Jammu and Kashmir and continuous drives against corruption will be done throughout the year.
"Three years back, PM Modi lit a lamp of modern economic and social development in Jammu and Kashmir. Jammu and Kashmir administrations achieved notable achievements. Despite various challenges, we completed 50,726 projects in last financial year with a five-time speed," he added.
Also Read | Independence Day 2022: India, Bangladesh troops exchange sweets at Fulbari border
The Lieutenant Governor stated that the new Jammu and Kashmir is laying the groundwork for the realisation of the dreams and hopes of the youth.
Meanwhile, Prime Minister Narendra Modi, speaking for the ninth time from the ramparts of the Red Fort in Delhi on the occasion of Independence Day, declared that India is the "mother of democracy" and that everyone is working to empower every Indian in every corner of the country.
PM Modi addressed the nation today on this historic day, saying "India is the mother of democracy. India has proved that it has a precious ability and faced many challenges during its journey of 75 years."
Also Read | PM Modi gives 'panch prans' to become developed nation in next 25 years
-PTC News