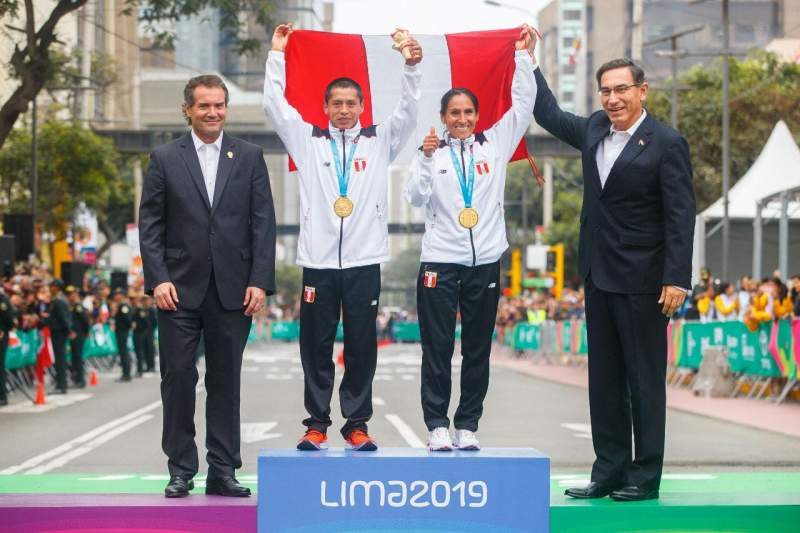 To start a mega sporting event as a host with a gold in the opening event is what in sports parlance called "Dream Start". And Peru did it.
Peru could not have asked for a better start to its first Pan American Games on home soil as it won both the women's and men's Marathon events at Lima 2019.
Interestingly, marathon is normally not the first event to set in motion the battle for sports supremacy at such mega events. But marathon, the toughest of athletic events, has been the strength of Peruvians and they proved it on an overcast day. the first day of events.
Gold medals were awarded to both Gladys Tejeda and Cristhian Pacheco who not only won the country's first gold medals of Lima 2019, but also set new Pan American Games records.
Fans who had lined the streets near Parque Kennedy were raving as both Gladys and Cristhian crossed the finish line in first, dominating the rest of the competition on the streets of the Peruvian capital.
Tejeda crossed the finish line with a time of 2:30:55 to break the Pan Am Games record and came within one minute of reaching the qualifying standard of the Tokyo 2020 Olympic Games.
"This is a very important achievement with my return, and to be able to break my own personal best and do it here in Peru has been amazing. I am very grateful and this allows me to think that I can work even harder to achieve the Olympic qualifying standard," Tejeda said after crossing the finish line.
Cristhian Pacheco finished the Marathon events of the Pan Am Games showing a lot of emotion. With Peru's flag in his hands, he crossed the finish line with a time of 2:09:32, also breaking the Pan Am Games record. The record was previously held by Puerto Rico's Jorge Gonzalez who ran the race in a time of 2:12:43 at the Caracas 1983 Pan Am Games.
"It is a joy for all of Peru for me to be able to win this way today, we now have two gold medals and two records. This is dedicated to all of the people who have came to support us," Pacheco added.
Panam Sports President Neven Ilic and Peruvian President Martin Vizcarra gave these outstanding athletes their gold medals at the awards ceremony at Parque Kennedy where the Peruvian anthem rang loudly throughout the streets twice in one day.
This outstanding performance sets the bar high for the rest of Peru's largest athlete delegation in history. With more than 530 athletes competing at Lima 2019, Peru is well on their way towards winning their most gold and total medals in their history at the Pan Am Games.
Mexico ended with a double in men's section, winning silver and bronze, while USA and Columbia got silver and bronze in women's section.