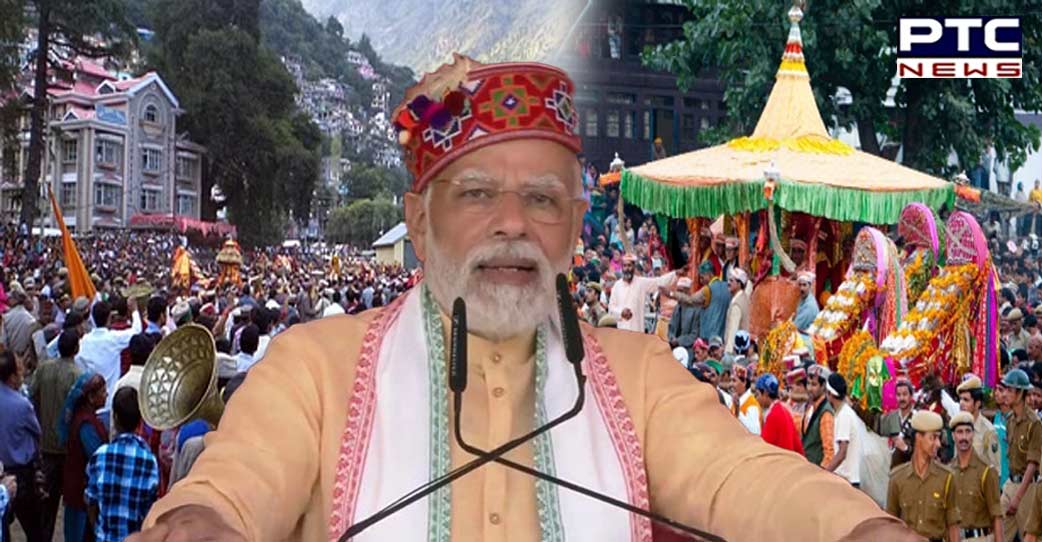 Bilaspur (Himachal Pradesh), October 5: Prime Minister Narendra Modi on Wednesday extended greetings on the occasion of Dussehra and expressed his happiness to be a part of the International Kullu Dussehra Festival.

Notably, the International Kullu Dussehra Festival will be celebrated from October 5 to 11 at the Dhalpur Ground in Kullu.
The festival is remarkable in that it is the congregation of over 300 Deities of the Valley. The Deities pay their obeisance at the temple of the Chief Deity Bhagwan Raghunath Ji on the first day of the Festival and then go to the Dhalpur Ground.
"I am elated to provide the citizens of Himachal Pradesh citizens with the gifts of projects of education, health, and infrastructure worth thousands of crores," PM Modi said. He further said that he will seek blessings for the country by joining the Raghunath Ji Yatra.
"I am very fortunate to participate in the Kullu festival after so many years," he continued.
Also Read | Army's Cheetah helicopter crashes in Arunachal's Tawang, pilot dead
In the famous Kullu Dussehra celebrations, the Prime Minister will witness this magnificent Rath Yatra and the majestic assembly of the Deities.
It will be the first time the Prime Minister of the country has attended the Kullu Dussehra celebrations.
Meanwhile, PM Modi inaugurated AIIMS Bilaspur and laid the foundation stone for multiple development projects.
"The development projects inaugurated today on the occasion of Vijayadashami will play an important role in achieving the vision of a developed India by following the 'Panch Pran'. Today, Bilaspur has got the double gift of education and medical facilities," PM Modi added.
Also Read | 25 die as bus falls into gorge in Uttarakhand; 21 rescued
-PTC News