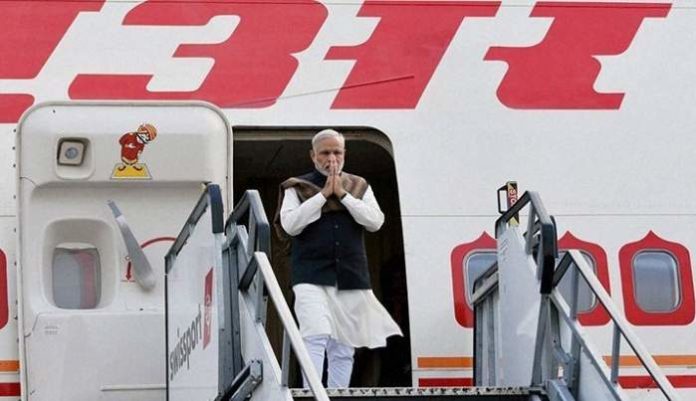 The VVIP flight carrying Prime Minister Narendra Modi to the Shanghai Cooperation Organisation (SCO) Summit in Kyrgyzstan on June 13 won't fly through Pakistani airspace despite permission for overflight granted by Islamabad, people familiar with developments said on Wednesday.
The government's decision is a reflection of the frosty nature of bilateral ties since the standoff following the February 14 suicide attack at Pulwama by the Pakistan-based Jaish-e-Mohammed that killed 40 Indian troops.
The external affairs ministry said the VVIP flight will use a longer route to Bishkek through the airspace of Oman, Iran and Central Asian states.
Indian conducted an air strike on a JeM facility on February 26 and this was followed by an engagement by combat jets near the LoC the following day. Both sides closed their airspace because of the tensions, though Pakistan granted permission for former external affairs Sushma Swaraj to fly to the Kyrgyzstan capital of Bishkek for the SCO foreign ministers' meeting in May.
Though New Delhi had sought and received permission from Islamabad to use Pakistani airspace for Modi's VVIP flight for the SCO Summit to be held in Bishkek during June 13-14, a decision was made by the Indian government to use an alternative route, the people cited above said.
Without naming Pakistan, external affairs ministry spokesperson Raveesh Kumar said: "The government of India had explored two options for the route to be taken by the VVIP aircraft to Bishkek. A decision has now been taken that the VVIP aircraft will fly via Oman, Iran and Central Asian countries on the way to Bishkek."
Pakistani officials, who declined to be named, confirmed that permission for overflight had been granted for the Indian VVIP flight. "There was a request and it was cleared. It appears domestic issues were behind this decision," said an official on condition of anonymity.
The people cited above said the Indian decision was also an indicator that there was no plan for a structured meeting between Modi and his Pakistani counterpart Imran Khan on the margins of the SCO Summit. A chance encounter between the two leaders is possible though too much shouldn't be read into this, they said.
Travellers from India, Afghanistan and Central Asian countries have been facing problems, including higher air fares and flights of up to 12 hours with a stopover, because of the closure of Pakistani airspace. Indian removed all restrictions imposed on its airspace on May 31.