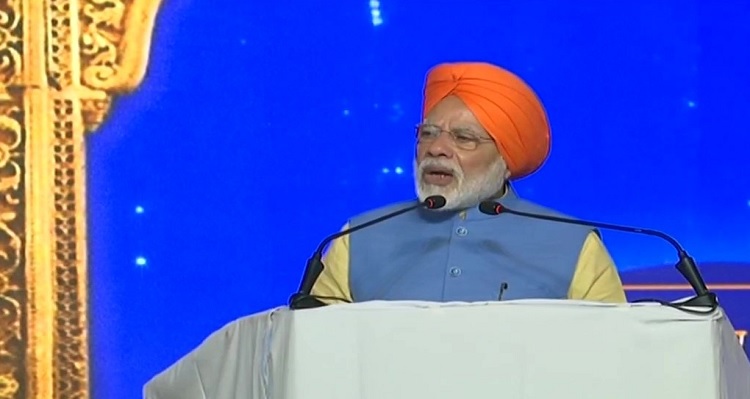 Prime Minister Narendra Modi addressed speech at the inauguration of the Integrated Check Post of Kartarpur Corridor at the Dera Baba Nanak in Gurdaspur. PM Modi said, "The opening of Kartarpur Sahib corridor before the 550th birth anniversary of Sri Guru Nanak Devi Ji has brought us immense happiness."
While thanking Pakistan Prime Minister, PM Modi said, "I would like to thank the Imran Khan Niazi for respecting the sentiments of India." Adding, he said "Guru Nanak Dev ji had told the purpose of his visits. Babe Aakhiya, Nath Ji, Sachu Moon Koodu Andhera!! Kudu Amavasi Barateya, Hoon Bhalan Chadhiya Sansara!!"
Meanwhile, he said "It was in Kartarpur that he sang the qualities of nature. He had said- "Pavnu Guru, Paani Pita, Mata Dharati Mahatu" !!! That is, consider air as a guru, give water equal importance as father and earth as mother."
https://www.ptcnews.tv/pm-narendra-modi-pays-obeisance-at-ber-sahib-gurudwara-in-sultanpur-lodhi/
He said, "For the past one year, the teachings of Sri Guru Nanak Dev Ji have been promoted through events such as Kirtan, Katha, Prabhat Pheri, Langar. Earlier, the 350th Prakashotsav of Guru Gobind Singh ji was also celebrated with grandeur all over the world."
"The work of making Sultanpur Lodhi a heritage town is underway. Whether heritage complex, museum, auditorium, many such works have either been completed or are going to be completed soon," he added.
Updating...
-PTC News