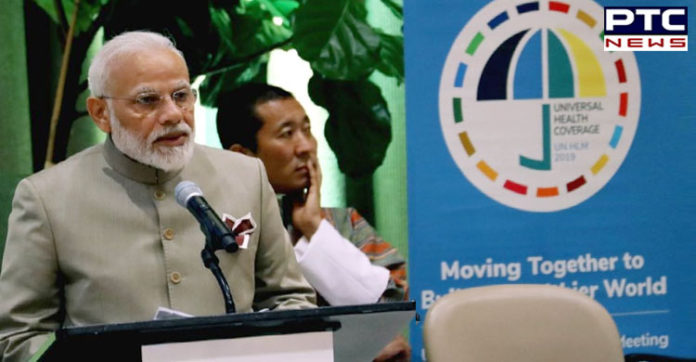 Addressing the first high-level meeting on Universal Health Coverage in New York on Monday, Prime Minister Narendra Modi said every person has the right to a healthy life.
To ensure this, he said, "We've given special emphasis on Yoga, Ayurveda and fitness. We're building more than 1.25 lakh wellness centers. It's helping control lifestyle diseases like diabetes and depression."
He also talked about the recent ban on e-cigarettes and said it was done to prevent addiction among the youth. "The craze of e-cigarettes is a matter of concern. To save the young generation from this problem, India has banned e-cigarettes," he said.
On Ayushman Bharat Yojana, PM Modi said, "We implemented the world's largest health insurance scheme – Ayushman Bharat Yojana, under which 500 million poor people are being given free health benefits of up to Rs 500,000 every year. In the last one year, 4.5 million people were benefitted."
 Howdy Modi at Houston: PM Narendra Modi slams 'countries supporting terror' in veiled attack on Pakistan
The PM also held meetings with Emir of Qatar, Tamim bin Hamad Al Thani, in New York. Later, he met German Chancellor Angela Merkel and Prime Minister of Netherlands, Mark Rutte. This was followed by a meeting with Bhutan Prime Minister Dr Lotay Tshering and President of Colombia, Ivan Marquez.
-PTC News