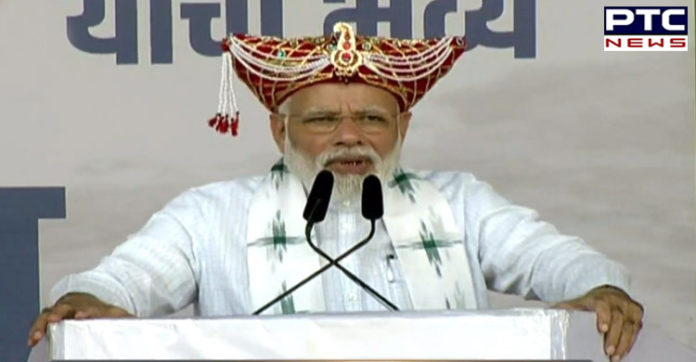 Prime Minister Narendra Modi, on Thursday, addressed a rally in Nashik, Maharashtra. He said, "In April, when Lok Sabha elections 2019 were held, it was very hot. At that time, I was in Dindori for a rally, seeking your blessings. The huge crowd created such a vibration that the BJP wave became even more powerful in the entire country."
The Prime Minister said his appearance is fulfillment of a promise he made to the people that he would step up development within a stipulated time frame. "When I came to you during Lok Sabha elections, I told you that the pace of development would be increased, it would be done within a time frame and that I would come to you in time with answers. We just completed the first 100 days and the first century is before you," he said.
He said the first 100 days of the government were marked by an upsurge in development, welfare and consequent strengthening of India's international stature. "In the first 100 days, there is the promise of New India, there is the message of India's global power, there is faith in welfare, there are efforts for development of the country's economic structure and creation of new job opportunities," he said.
On Jammu-Kashmir & Ladakh, he said problems in these sensitive zones are being resolved. "We promised that we would make efforts to curb problems in Jammu and Kashmir and Ladakh. Today, I can say with satisfaction that the country has started fulfilling those dreams."
Happy Birthday Narendra Modi: Lesser-known facts about the 14th Prime Minister
According to him, revocation of Article 370 is the fructification of the demand of millions of Indians. "Implementation of India's Constitution in its totality in Jammu and Kashmir wasn't the decision of the government alone. It was in keeping with the sentiments of 130 crore Indians. This decision is to bring people of Jammu and Kashmir and Ladakh out of the cycle of violence, terrorism, separatism and corruption. This decision is for India's unity. It will be the medium of fulfillment of the aspirations and dreams of the people of Jammu and Kashmir," he declared.
The Prime Minister said efforts are being made to disrupt peace and spread unrest in the Valley by Pakistan. But he expressed faith in people of Kashmir. "The youth, mothers and sisters of Jammu and Kashmir have made up their mind to come out of the spiral of violence. They want development and employment opportunities," he said.
-PTC News