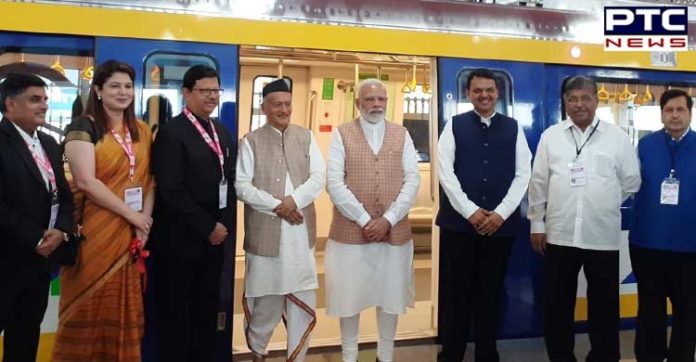 Prime Minister Narendra Modi on Saturday inaugurated the first coach for Mumbai Metro built under the 'Make in India' programme. Along with the Maharashtra Chief Minister Devendra Fadnavis and Mumbai Metro officials, PM Narendra Modi took the tour of the train. The state engineering firm BEML is built the coach. Likewise, PM Modi has inaugurated three Metro lines which will provide an ease in the traffic of Mumbai, especially during the monsoon. Also, several infrastructure projects worth Rs 20,000 crore were launched during the visit.
PM @narendramodi, Governor of Maharashtra @BSKoshyari, CM @Dev_Fadnavis and other dignitaries at inauguration of the first metro coach under #MakeInIndia #MumbaiMetro pic.twitter.com/W3kUWQRYyF

— PIB in Maharashtra (@PIBMumbai) September 7, 2019
PM Modi visited Mumbai after addressing the sceintists of the Indian Space Research Organisation (ISRO) in Bengaluru. The Prime Minister visited ISRO centre to see the live landing of the Chandrayaan 2 mission, which missed to touchdown on the moon with just 69 seconds. The Vikram Lander of the mission lost communication with the ground stations.
Addressing a public meeting in the dynamic city of Mumbai. https://t.co/gd8zDtfGRD

— Narendra Modi (@narendramodi) September 7, 2019
Likewise, PM Modi during Mumbai visit said, "I was really inspired by the courage and resolve shown by our ISRO scientists. How to work towards your aim irrespective of big challenges is what I learnt from them. They will not stop striving till they reach the target."
Chandrayaan 2: PM Narendra Modi addresses scientists at ISRO centre
"There are three type of people – people who never start in the fear of failure, people who run away from a problem at the sight of first hurdle and people who start then keep at it untill they conquer it. The ISRO scientists are the kinds who won't give up", said PM Modi.
गणपति बाप्पा मोरया!

आज मुंबई में उसी जगह पूजा करने का सौभाग्य मिला, जहां लोकमान्य तिलक की प्रेरणा से सौ साल पहले गणपति की स्थापना हुई थी। pic.twitter.com/PJljxiVSv3

— Narendra Modi (@narendramodi) September 7, 2019
Later, PM went for 'darshan' of Lord Ganesha at the Lokmanya Seva Sangh at Vile Parle in Mumbai. However, PM Modi was scheduled to visit Nagpur later, but it was cancelled due to the bad weather.
-PTC News