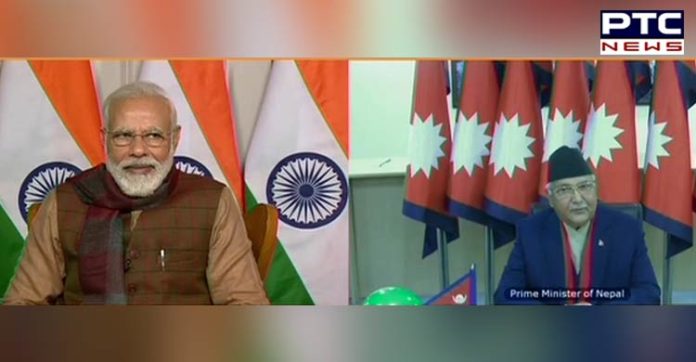 Prime Minister Narendra Modi and Nepal Prime Minister KP Sharma Oli on Tuesday jointly inaugurated the 2nd Integrated Check Post (ICP) at Jogbani-Biratnagar, built with Indian assistance to facilitate trade and people's movement. The first ICP was built in Raxaul-Birgunj in 2018.
PM Narendra Modi said, "India is committed to simplify and ease traffic with all friendly countries in the neighborhood and to further facilitate contacts between us in areas such as business, culture, education, etc."
"India and Nepal are working on several cross-border connectivity projects such as road, rail, and transmission lines. Integrated check posts at major border points between our countries are greatly facilitating mutual trade and movement," he added.
Watch it here: 
While lauding the Nepalese, PM Modi said that "The 2015 earthquake was a painful accident. Natural calamities like earthquakes test man's tenacity and determination. Every Indian is proud that our Nepali brothers and sisters faced the sad consequences of this tragedy with courage."
He added that "It is a matter of great satisfaction that forty-five thousand out of fifty thousand houses have been constructed under Indo-Nepal cooperation. We hope that construction of the remaining houses will also be completed soon. And these houses will soon be dedicated to Nepali brothers and sisters."
Kanpur: PM Narendra Modi falls on the stairs at Ganga ghat [VIDEO]
Furthermore, PM Modi said "I wish that with your cooperation and support in the new year, we take our relationship to a higher level. And this new decade should be the golden decade of India-Nepal relations."
Meanwhile, Nepal PM KP Sharma Oli said "The time has come to resolve all pending issues through dialogue in the lasting interest of our two countries. Stable and majority government in both countries is an opportune moment. My govt remains committed to working closely with govt of India towards this."
-PTC News