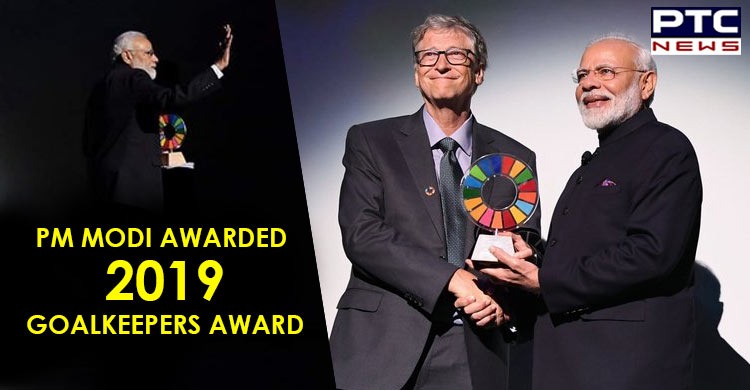 The Bill and Melinda Gates Foundation awarded Prime Minister Narendra Modi the Global Goalkeeper Award for Swachh Bharat Abhiyan in New York on Wednesday. The award was conferred on him by Bill Gates. Addressing the gathering, the Prime Minister said, "This honour is not mine but that of crores of Indians who not only fulfilled the dream of Swachh Bharat but also made it a part of their daily lives."
https://twitter.com/ANI/status/1176654883346247680
The Prime Minister said a big change has been made in the past five years. "In the last five years, more than 11 crore toilets were constructed, which is a record. This mission has benefited the poor of this country and women the most," he said. He also expressed his satisfaction at improvement in health indices. "I have been told that a report of Bill and Melinda Gates Foundation said heart problems in children have decreased in India due to better rural sanitation and there has been an improvement in the Body Mass Index of women," he noted.
Also Read: Howdy Modi at Houston: PM Narendra Modi slams 'countries supporting terror' in veiled attack on Pakistan
The Prime Minister chalked out India's vision for the future saying, "India is close to achieving its sanitation target but is also working steadfastly on other missions. Through Fit India movement, we are promoting fitness and preventive healthcare," he said.
Congratulating PM Narendra Modi, Amit Shah said in a tweet, "The Global Goalkeeper Award conferred by the Gates Foundation to PM Modi is a recognition of New India's resolve for cleanliness under his leadership. I congratulate PM for his relentless efforts in the field of sanitation and to make Swachhta a Sanskar in India."
-PTC News