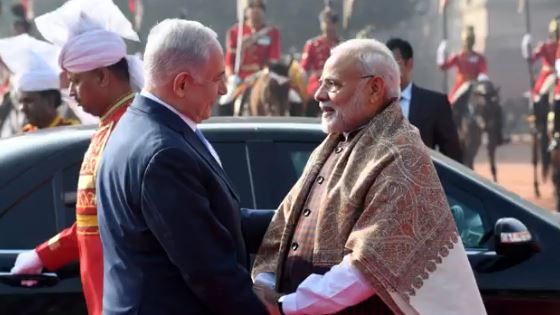 Prime Minister Narendra Modi on Sunday has responded to the Israel Prime Minister Benjamin Netanyahu's "Ye Dosti Hum Nhi Todenge" wish on the occasion of Friendship Day 2019. PM Modi took it to the twitter and responded, "Thank you for a happy corporate day for wonderful citizens of Israel and my good friend Benjamin Netanyahu. India and Israel have proved their friendship over time. Our relationship is strong and eternal. Wish friendship between our countries grow and bloom even more in the future". 
תודה לך
מאחל יום חברות שמח לאזרחי ישראל הנהדרים ולידידי הטוב @netanyahu

הודו וישראל הוכיחו את ידידותם לאורך הזמן. הקשר שלנו הוא חזק ונצחי. מאחל שהידידות בין המדינות שלנו תצמח ותפרח אף יותר בעתיד https://t.co/PsZTgMoXMU

— Narendra Modi (@narendramodi) August 4, 2019
Earlier, the Israeli embassy in India took it to the twitter and said, "Happy Friendship Day 2019 India! May our ever-strengthening friendship & growing partnership touch greater heights". Also, they added, "Yeh Dosti hum nahi todenge (We will not break this friendship)", a song from the popular film Sholay. In Sholay, the line was used by the best friends Amitabh Bachchan (Jai) and Dharmendra (Veeru), representing the friendship goals, and so tried the Israeli embassy in India to represent.
Also Read: "Kithana acha he Modi"- Australian PM Scott Morrison posts selfie with Indian PM, Narendra Modi replied
In a video shared by the Israeli embassy in India, the video is filled with the pictures of PM Narendra Modi and Israel Prime Minister Benjamin Netanyahu, together and happy, hugging each other and shaking hands. The reply from PM Modi clearly shows the relationship between these two countries. In fact, Israel PM Benjamin Netanyahu was the first one among the world leaders to congratulate him on BJP's massive victory in Lok Sabha Elections 2019. BJP in Election 2019 won over 300 seats to claim the massive majority in the Lok Sabha.
-PTC News