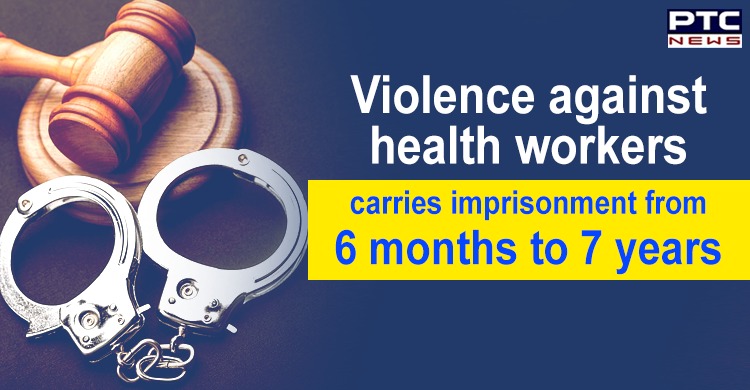 Union Minister Prakash Javadekar on Wednesday stated that "the Central Government has brought an ordinance to end violence against health workers, carries imprisonment from 6 months to 7 years if anyone found guilty." "Health workers who are trying to save the country from this epidemic are unfortunately facing attacks," he said.

Adding, he said that "No incident of violence or harassment, against them, will be tolerated. An ordinance has been brought in, it'll be implemented after President's sanction." Javadekar also said that "An Amendment to be made to Epidemic Diseases Act, 1897 and Ordinance will be implemented. Such crime will now be cognizable and non-bailable. The investigation will be done within 30 days. The accused can be sentenced from 3 months-5 years and penalised from Rs 50,000 up to Rs 2 Lakh."

"In a case of grievous injuries, the accused can be sentenced from 6 months to 7 years. They can be penalised from Rs 1 Lakhs to Rs 5 Lakhs," he added. If the damage is done to the vehicles or clinics of healthcare workers, then a compensation amounting to twice the market value of the damaged property will be taken from the accused, he stated.
https://twitter.com/ianuragthakur/status/1252904174930427906?s=20
Health briefings will now be reduced to 4 days a week, press releases and Cabinet briefing on alternate days, Javadekar announced.
Also Read | Coronavirus vaccine trial to start in UK on April 23
Welcoming the decision, the Union Minister of State for Finance and Corporate Affairs, Anurag Thakur, said that "Strong step by Narendra Modi Ji. An important decision by Union Cabinet to bring an Ordinance that would help protect the Healthcare service personnel and their living/working premises against violence. They're protecting our nation's future; no one should get away threatening their lives."
-PTC News