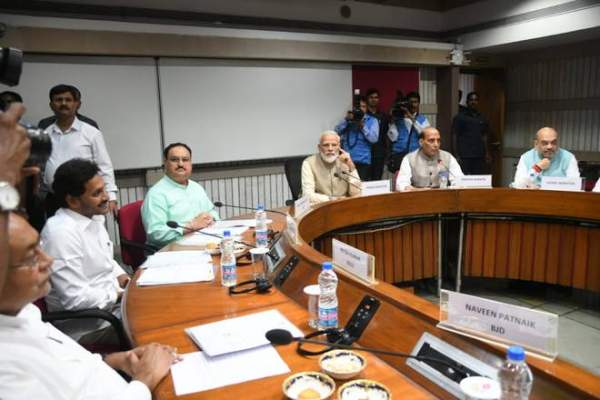 PM Modi told an all party meeting on Wednesday that a committee would be set up to take a close look at the proposal to hold simultaneous elections in the country.
Defense Minister Rajnath Singh, who later summarized the discussions, told reporters that most political parties who attended the meeting were supportive of the concept of 'one nation, one election'. But he acknowledged that there were some, such as the Left parties, who had concerns about its implementation. The committee being set up by PM Modi would look into all these issues, Rajnath Singh said.
Many political parties had skipped the meeting which comes weeks after BJP's massive victory in the general elections, winning 303 of the 542 seats.
Mamata Banerjee was the first to announce her decision to skip the meeting. Leaders of many other leaders including Mayawati, Akhilesh Yadav & MK Stalin also indicated that they would give the meeting a miss.
Telangana chief minister K Chandrashekar Rao, TDP chief N Chandrababu Naidu and AAP's Arvind Kejriwal sent their representatives instead of going themselves.
Sitaram Yechury, a critic of 'one nation, one election' plan, had declared early in the day that he would be present to oppose the idea that he insisted was 'fundamentally anti-federal and anti-democratic'.
The flawed idea, he said, would "tamper" with the constitutional scheme of accountability of the government to the legislature.
"Any attempt to prolong the life of the Lok Sabha or legislature will not only be unconstitutional, but also, anti-democratic. It is the will of the people through their elected representatives that must prevail," he said.
All party meeting chaired by PM Modi is also discussing plans to celebrate 75 years of Independence in 2022 and the 150th birth anniversary of Mahatma Gandhi this year.