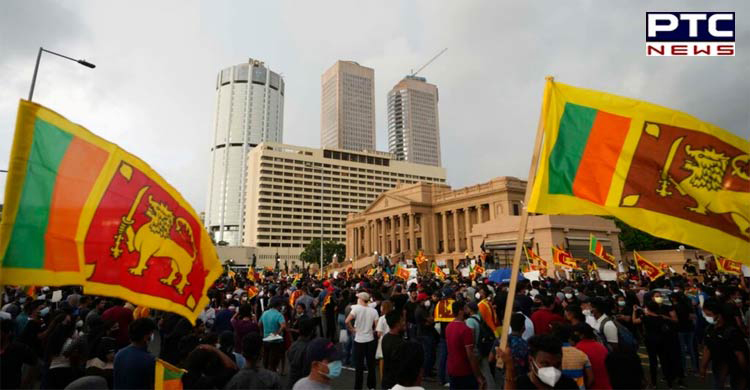 Colombo (Sri Lanka), July 10: After protesters took over the residence of Sri Lankan President Gotabaya Rajapaksa, the mansion has now become a new tourist spot with protestors strolling through the balconies, relaxing in bedrooms, dining in the kitchen and taking a dip in the swimming pool.

Meanwhile, protesters claimed to have recovered a large amount of money from the President's mansion, local media reported. According to Daily Mirror, the recovered money has been handed over to the security units.
Following the unrest on Saturday, when tens of thousands of protesters besieged his official mansion in Colombo and forced him to flee to an unknown location, several dramatic footages have been doing rounds on social media.
According to the media outlet, in one of the viral videos, protesters can be seen counting the currency notes that they claimed were unearthed from the President's official residence.
Meanwhile, in other photos and videos, people inside the president's house can be seen taking selfies with expensive cars as the backdrop. Furthermore, a sea of people can be seen exercising at the Presidential house's gym. Many people were taking selfies at the pool.
Talking to the media, one of the protestors stated: "We have been showing our displeasure by holding the flag saying that the system that they are continuing for 74 years is repressive of our people, our rights. They were oppressive towards people. They were just clinging on to power by using military forces that's why our sign was the black flag showing the descent to the government. The youth are against this system."
Also Read | Heavy rains throw life out of gear in Ambala, Chandigarh
They stormed into President Gotabaya Rajapaksa's home with the demand for his resignation, smashed down police-erected security barriers, jumped in the pool, and ransacked his kitchen and home.
According to the media portal, General Shavendra Silva, the Chief of Defence Staff (CDS), appealed to all residents to help the police and armed forces in order to keep the nation peaceful.
Outraged by the unprecedented economic crisis, protesters in Sri Lanka also broke into Prime Minister Ranil Wickremesinghe's private residence and set it on fire.
According to the Daily Mirror, when the security personnel attacked several journalists, more protesters gathered nearby.
To disperse the enraged protestors, police used water cannons. The protesters entered the PM's home and set it ablaze despite being sprayed with tear gas by the police.
Wickremesinghe, who was named prime minister in May, has stated he will step down from his position in order to maintain the government and ensure everybody's safety.
Sri Lankan President Gotabaya Rajapaksa has also agreed to step down from his post on July 13.
Also Read | Dry fruit warehouse gutted in Amritsar fire
-PTC News