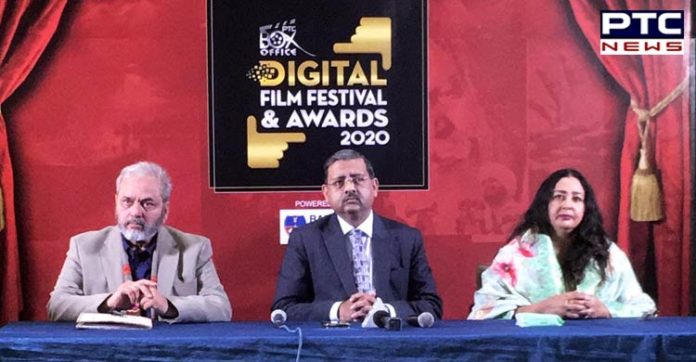 Chandigarh: True to its reputation of a torch bearer, PTC Network has added another 'first' initiative to its portfolio by announcing the launch of PTC Box Office Digital Film Festival & Awards. Giving a boost to the PTC Network's entertainment initiatives, PTC proudly announced that it is the first time in the history that such awards are taking place for Punjabi entertainment industry.
Rabindra Narayan, Managing Director & President, PTC Network, said, "With PTC Box Office Digital Film Festival & Awards, PTC Network aspires to encourage upcoming and fresh talent of the Punjabi film community and create a unique platform for diverse genres and audience."

He further added, "It will also engage and educate the youth about Punjabi cinema and provide them a platform where they are guided and mentored by industry experts. Not many know that every week a new Punjabi digital film is produced by PTC Network which is unique effort in the world. More than 50 such films produced in last one year vie to win laurels in first ever Punjabi digital film festival & Awards. This is also a unique endeavour to recognise and promote rich talent in the state, and celebrate Punjabi cinema".
PTC Box Office Digital Film Festival & Awards will be launched on 15 February 2020 to include screening of ten selected digital films produced by PTC Network last year and a conclave which will comprise of panel discussions and production workshops.

On 16 February, in the panel discussion on 'Revival of Punjabi Cinema with Digital Innovation', Executive Editor, Hindustan Times Ramesh Vinayak, along with leading players from the Punjabi film industry namely Jass Grewal and Rana Ranbir will discuss how digital film making has revived Punjabi film scene and has given a new lease of life to local Punjabi film actors and  makers.
The event will conclude with a star-studded awards night on 17 February, where the most deserving contributors to Punjabi cinema will be awarded. Some of the award categories includes Best Actor, Actress, Director and best film in different genres. Voting for these awards is live on PTC Play app.
There will be a special awards category to honour people for their remarkable support and thrust to the film industry.
PTC Network is leveraging cutting edge technology to bring together talent and innovation to create world class Punjabi content and has already championed the art of engaging the global Punjabi community on its digital platforms. With its marquee property, PTC Box Office, it creates and launches one digital film every week, taking the total number of movies launched last year to 60.
PTC Network announces huge line up of world class programming in 2020
This initiative will strengthen our efforts and give us the opportunity to be a catalyst of Punjabi cultural renaissance through Punjabi films on a global arena.
A galaxy of celebrities from Pollywood and Bollywood are expected to attend the exquisite awards ceremony on February 17 at Taj Chandigarh.
-PTC News