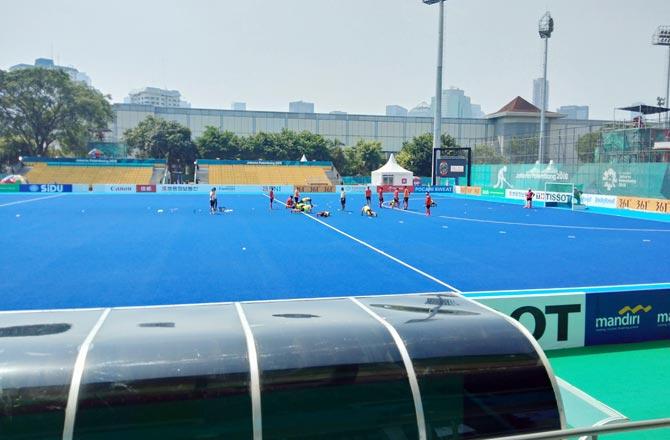 What is wrong with Indian hockey?
"Nothing much" will argue majority of ardent fans of the sport quoting recent World Hockey Rankings that put India at number five position in men's section and number nine in women's section.
There is also no denying the fact that Indian teams had good runs of play in international hockey in recent years winning some important tournaments and recording emphatic wins over some top teams, both in men and women sections.
But the upsurge in World Rankings and series of good performances still do not make India unbeatable by teams ranked below it.
The Gold Coast Commonwealth Games and now Asian Games results are all before us. India failed to win any hockey medal at Gold Coast. In Asian Games men's hockey competition, though India was the highest ranked team, it failed to reach the final.
The only consolation was that the women's team made it to the final but lost the gold medal match. Many may take it as an achievement as the Silver India won was its first since 1998. Only time India won the gold was in 1982 when competition in hockey for women was introduced. In 36 years we are yet to repeat the 1982 performance.
If one looks at results of Indian teams, both men and women, one thing is abundantly apparent. Our teams lack big match consistency. They may give out their best in one event and touch a low in another for reasons better known to team managements and those governing the sport in the country.
One probable reason for this big match inconsistency is poor or knee jerk planning.
Indian teams, both men and women, had maximum exposure in the year 2018. They played more international games than any other Asian nation. Did it help?
As a player and as a journalist my impression has been that neither the Hockey India nor the team management knew when they want our teams to peak – in Commonwealth Games, in World Cup for women and Champions Trophy for men, Asian Games or World Cup for men.
After eight months of training and competition, each player tends to burn out.Though some minor changes were made in Indian teams for different events but the bulk of the team remained the same. Fatigue and too much of hockey, especially easy games in Asian Games, did influence India's performance in semis in men's section and in the final of women's section.
Could not we plan to prepare our teams for each and every tournament in a manner that fatigue and burnouts are avoided.
Big scoring matches against hapless teams are no consolation. Even big scores do not justify smashing old records as the game in those days was played on a different note, on a different play field and under absolutely different set of rules. Hockey of 1932 and hockey of 2018 are absolutely two different ball games.
Substantial number of international matches are decided these days by penalty corners. The major bane of Indian hockey has been its inconsistency in taking or defending penalty corers. Whether the coaches attached with the team were foreigners or Indians, no one could perfect the technique of taking or defending penalty corners. Japan scored both its goals against India through penalty corers.Malaysia did the same in semis against our men's team.
We may have gone to the world claiming we have one of the best goalkeepers in the sport in men's section but our track record in defending penalty corners and also in penalty shootouts has not been that of a potential world champion team.
Another important factor has been failure of our teams to switch from an extremely easy match to a tough match. It happened in Jakarta. After toying with hapless Sri Lankans in their last pool game, Indians did not come out of that laxity when faced with tougher Malaysian challenge.After having watched Indian and international hockey closely for over 40 years I can go on and on. I agree it is easy to sermonize than do things.
Indian hockey players have also to master the art of holding hockey stick. Our players tend to have lighter or loose grip on the stick that leaves room for rebounds, lack of  both speed or ferocity and accuracy  in passes and also chances of losing hold of sticks in close skirmishes.
It is time for India to do lot of introspection as the 2018 Bhubaneswar World Cup is on hands and the expectations of hockey fans at home would be high. India needs to pull up its socks and take criticism in positive strides so that mistakes of Jakarta are not repeated at home.