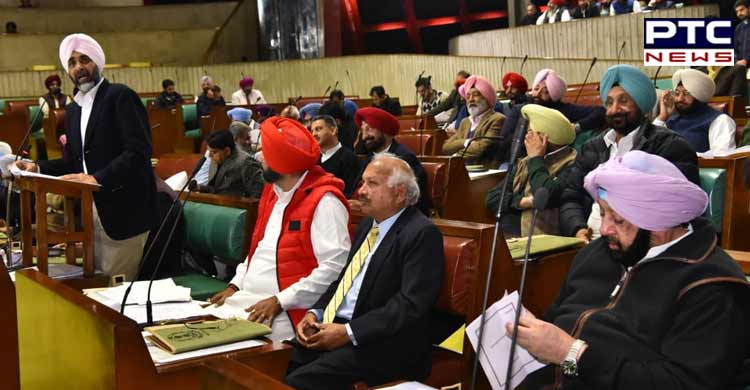 Punjab Budget 2019-2020: Manpreet Singh Badal presents budget; Highlights
Punjab Finance Minister Manpreet Singh Badal presents the budget for the financial year 2019-2020. As he began proposing his budget, all opposition MLAs--AAP and Akali-BJP stormed into the Well of the House.
All Akali-BJP MLAs stage a walkout and many angry scenes were witnessed in the House. Heated arguments ensued between Sidhu and Akali benches. Akalis wore black badges to register their protest against Sidhu's remarks. No MLA from the Congress came in support of Sidhu. It disrupted the Manpreet Singh Badal's speech.
Also Read: Behbal Kalan firing case : SIT to interrogate police officials today
Manpreet Singh Badal presented a budget of Rs 90,197 crore. After taking into account the ways and means advances, the budget size of Punjab is Rs 1,58,493 crore. The state's debt burden will rise from Rs 2,12,276 crore to Rs 2,29,612 crore. The state will have a revenue deficit of Rs 11,687 crore in 2019-20 and a fiscal deficit of Rs 19,658 crore. The unfunded gap in the budget will be reduced from Rs 4,175 crore in the current fiscal to Rs 2,323 crore in 2019-20.
He proposed to develop Amritsar as an Iconic city to celebrate 550th Parkash Parb of Sri Guru Nanak Dev Ji. For this, he announced Rs 10 crore. He also announced great sports complex for Jalandhar. He also proposed 'Make in Punjab' concept to promote goods produced in Punjab only.
Also Read: Punjab cabinet decides to extend 5% reservation in allotment of houses/plots to riots/terrorist victims till December 31, 2021
He also announced Rs 8,969 crore for free power subsidy to farmers and Rs 1,513 crore for free power subsidy to industry. He further said that Punjab Agri Export Corporation will come up soon. Also, Wood-based Industrial park will also come up in Punjab.
A total of 10 industrial units shut for five years in Mandi Gobindgarh have been revived.
- PTC NEWS