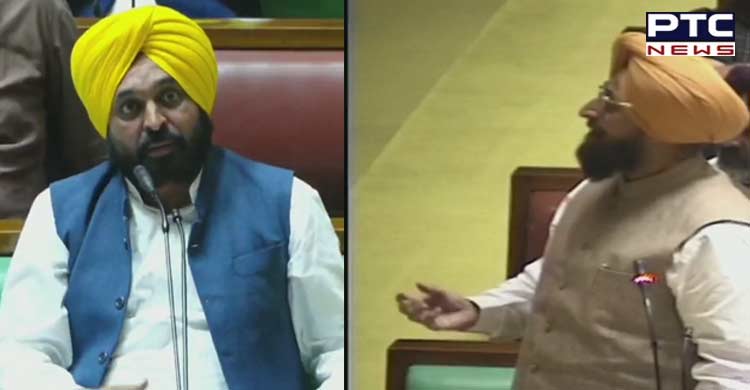 Chandigarh, June 23: Amid sloganeering of 'Punjab Sarkar Murdabad', Opposition leaders in the Punjab Legislative Assembly staged a walkout during the ongoing Budget session on Friday.

Leader of the Opposition in the Punjab Assembly took up the issue of the deteriorating law and order situation in the state and sought a detailed discussion on the issue. He alleged that the Punjab Government, led by Bhagwant Mann, had been running away from answering queries on the issue.
Also Read | Punjab Budget session begins with obituary references; proceedings adjourned till 2 pm
Despite repeated requests of Punjab Assembly Speaker Kultar Singh Sandhwan, Partap Singh Bajwa and other Opposition leaders did not pay heed towards his plea and walked out of the House.
Earlier, Kultar Singh Sandhwan told the Opposition leaders that CM Bhagwant Mann would reply to all their queries on law and order in Punjab by 12 noon on Saturday, but to no avail.
On the other hand, Congress MLA Sukhpal Khaira said the session should be extended by more days.  Earlier, Partap Singh Bajwa sought a debate on "threat calls" received by Chief Minister Bhagwant Mann. He said if the CM was receiving threat calls, then how could a common man would feel himself safe and secure in the state.
AAP MLA  Aman Arora too repeatedly urged the Opposition leaders not to walk away and rather hold a discussion. He asked marshals not to allow the Opposition leaders to leave the House, but amid the sloganeering of "Punjab Sarkar Murdabad ", the Opposition  leaders left the House. Later, the discussion was resumed by Aman Arora, who also supported a debate on the law and order situation in Punjab.
Targetting previous governments, Aman Arora said the law and order had not deteriorated in the last three months during their tenure, but is the "gift given by previous governments".
Also Read | Sidhu Moosewala's 'SYL' gets 1 million views in 30 minutes!
His statement was objected by Punjab Congress chief Raja Warring, who launched a tirade against the government on poor law and order situation in the state.
Notably, the Budget Session of the Punjab Legislative Assembly began on Friday with obituary references. It will conclude on June 27, when the AAP government in Punjab would present its maiden Budget. On the first day of the session, tributes were paid to the departed souls, including Punjabi singer Sidhu Moosewala. After 13 minutes, the proceedings of the House were adjourned till 2 pm. The House proceedings resumed with Question Hour.
Earlier, the House also paid tributes to former ministers Tota Singh and Hardipinder Singh Badal, former MLAs Sukhdev Singh Sukhladi and Shingara Ram Sahungra, Arjuna Awardees Gurcharan Singh Bhangu and Hari Chand.
The House also paid tributes to freedom fighters Swarn Singh, Crora Singh and Sukhraj Singh Sandhawalia.
-PTC News