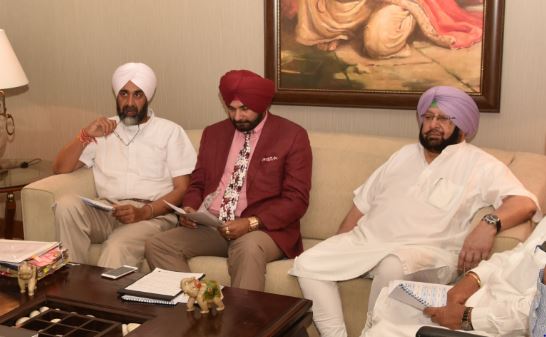 Chandigarh: The Punjab Cabinet on Wednesday approved fresh mine auctions through progressive e-bidding to boost the state revenue multifold, and bring greater transparency into the mining business, which had been cartelized during the previous SAD-BJP regime.
The decision, which will bring to an end the earlier practice of granting contracts of mines through reverse bidding process, seeks to fulfil Chief Minister Captain Amarinder Singh's poll promise to destroy the sand mafia in the state.
The decision, taken by the state cabinet under the chairmanship of the Chief Minister, is expected to increase the government revenue receipt to around Rs.300 crore, according to an official spokesperson. It will also ensure uninterrupted supply of sand and bajri to the consumers at fair price, he added.
It was also decided at the cabinet meeting that the state government would soon implement the Integrated Mines and Minerals Management System (i3MS) to bring greater transparency into the system. The i3MS is approved by the Government of India and has been successfully tried and tested in the state of Odisha, the cabinet noted.
The cabinet also decided to hike the compensation to land owners from Rs.50 to Rs.60 per tonne, the spokesperson revealed.
The state government is already working on a new mining policy, which is expected to be formulated by the end of the month as per the directives of the Chief Minister. Captain Amarinder had on April 1 reviewed the mining operations in the state, issuing strict instructions to the concerned departments to curb illegal mining.
The crackdown launched on illegal mining by the Captain Amarinder government had led to a spike in the prices of sand and gravel, which will get reversed with more legal mines becoming operational following the cabinet decision, said the spokesperson.
Besides increasing the number of legal mines, the government is also mulling deployment of modern digging techniques and stringent enforcement of rules to ensure that illegal mining becomes unviable. The new mining policy is expected to incorporate these and several other measures to free the state of the mining cartel and make the mining operations viable and lucrative for the state exchequer.
As per data shared by the concerned departments, as many as 59 mines are ready for auction and production can commence in these by May 20, with another 58 pending environmental clearance and expected to become operational by mid-August.