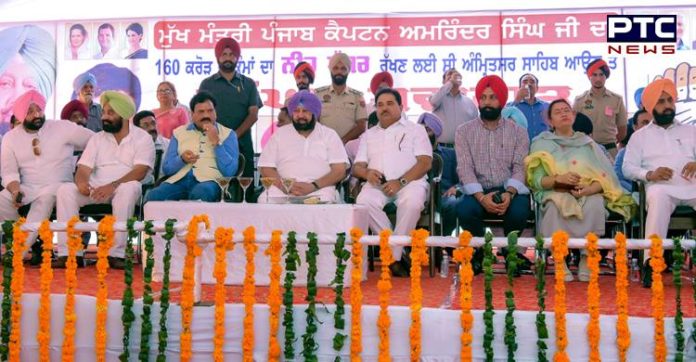 Punjab CM lays foundation stones for Rs 127.86 Cr of projects in Amritsar
Punjab Chief Minister Captain Amarinder Singh on Monday laid the foundation stones for five infrastructural projects, worth Rs. 127.86 crores, in Amritsar, while announcing an additional Rs. 50 crore for tube wells to ensure seamless supply of clean water pending the completion of the canal water supply network in the holy city.
The Chief Minister also announced a slew of tourism development projects, totaling Rs. 187.47 crores, for the upgradation of Amritsar, to showcase it as a global tourism destination.
The Chief Minister pressed the button to lay the foundation stone, by remote, of two Railway Over Bridges (RoBs), one Railway under Bridge (RUB) and a flyover besides, extension of the existing Bhandari Bridge.
Further noting that big cities like Amritsar, Jalandhar, Ludhiana and Patiala were facing acute water problems, the Chief Minister said with water levels receding the water received by these regions was becoming unfit for drinking, leading to spread of diseases.
Announcing his government's decision to provide canal water to these four cities, the Chief Minister underlined the need for regular and thorough testing of water.
The projects for which the foundation stones were laid by the Chief Minister included ROBs at Vallah Phatak on Amritsar-Delhi Railway line and on Amritsar-Attari section at Khajana Gate, RUB at Jaura Phatak on Amritsar-Delhi section and Amritsar-Pathankot section, & of Flyover at Sant Singh Sukha Singh (SSSS Chowk) on Majitha Road, besides extension of the existing Bhandari Bridge by constructing a parallel additional bridge.
The total cost of these projects is Rs. 127.86 Crores, of which Rs. 111.56 Crores would be borne by the Amritsar Improvement Trust (AIT), with the Railways contributing Rs. 16.30 Crores for the ROB at Vallah being built on cost-sharing basis. AIT has already earmarked Rs. 130 Crores in terms of FDRs for the timely execution of these developmental works.
The ROB to be built at Vallah Phatak would be completed at a cost of Rs. 34 Crores and the tenders in this regard would be floated by AIT. The other ROB to be built at Amritsar-Attari section would entail a cost of Rs. 25 Crores.
Construction of RUB at Jaura Phatak would be competed at a cost of Rs. 28.70 Crores for which tenders would be invited by Railways. Total cost of Rs. 18.16 Crores for Construction of Flyover at 4S Chowk on Majitha Road would be borne by AIT.
The extension of existing Bhandari Bridge would be completed at a cost of Rs. 22 Crores, for which tenders have been called by AIT and evaluation of the tenders is under process after obtaining requisite approvals.
Underscoring the need to tap Amritsar's tourism potential, Captain Amarinder Singh said that several iconic tourism projects, worth Rs. 37.46 crores were in progress, while another Rs. 110.01 crore worth of projects were in the pipeline.
These included Rs. 8 crore for VR/light & sound show at Jallianwala Bagh, for which Government of India's NoC was awaited.
Further, a sum of Rs.8 crore would be spent on the conservation and setting up of a museum on the life of the legendary Sikh ruler Maharaja Ranjit Singh at the Summer Palace, and was likely to be completed by the end of September next year.
Apart from these, Rs.5.28 crore had already been spent on the conservation and adaptive re-use of the historic Town Hall building as Food Street, and tenders for Rs.10.76 crore had been received for the completion of the remaining conservation works in Town Hall building by March end 2020.
Another Rs. 10 crore had been sanctioned for the beautification of the road in front of holy Sri Durgiana Temple. A sum of Rs.7 crore had been announced for different development works at Ram Tirath.
A sum of Rs.33.55 crore would be spent on Facade Improvement and its illumination at four Heritage Walk Streets under the smart city scheme, and Rs.30 crore has been earmarked for the widening and beautification of chowk & road at the historic Gurdwara Baba Deep Singh Ji.
Besides, said the Chief Minister, Rs.3.75 crore had been earmarked for conservation work at Heritage Walk in Quila Ahluwalia and Rs. 9 crore for public conveniences, interpretation centre, bird hides, viewing deck and watching towers at Harike Wetland.
-PTC News