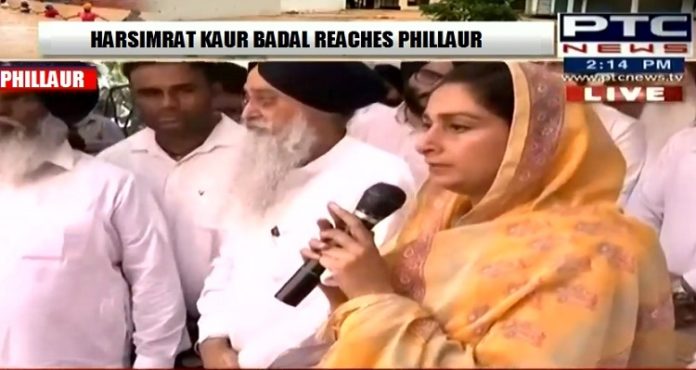 Punjab Floods: Union Minister Harsimrat Kaur Badal on Friday visited the Flood-affected areas in Phillaur to do the inspection of the current situation. Harsimrat Kaur Badal slammed Punjab Government for the failure ahead of the Punjab floods. Meanwhile, Harsimrat Kaur Badal addressed the media and called the floods in Punjab as the failure of Punjab Government, which is led by the Chief Minister Captain Amarinder Singh.
ਕੇਂਦਰੀ ਮੰਤਰੀ ਹਰਸਿਮਰਤ ਕੌਰ ਬਾਦਲ ਵੱਲੋਂ ਹੜ੍ਹ ਪੀੜਤਾਂ ਦੀ ਮਦਦ

PTC News यांनी वर पोस्ट केले शुक्रवार, २३ ऑगस्ट, २०१९
Also, Harsimrat Kaur Badal stated it as the negligence of the Punjab Government. Likewise, she said that the Punjab government should have arranged early for these situations which are now trouble for the people of the flood-affected areas. However, Punjab CM Captain Amarinder Singh has written to PM seeking Rs 1000 cr special package to address losses due to floods.
Also Read: Punjab Floods: SAD Chief Sukhbir Singh Badal visits Sultanpur Lodhi to inspect the flood-affected areas
Also, the Chief Minister Captain Amarinder Singh also urged PM to instruct concerned authorities to waive off crop loans availed by farmers in the affected villages during the current cropping season. Meanwhile, it is pertinent to mention that, earlier Shiromani Akali Dal President Sukhbir Singh Badal too visited the flood-affected areas in Sultanpur Lodhi on Thursday to do the inspection of the areas and the condition of the villages.
-PTC News