Sultanpur Lodhi: Reviewing the ground situation in the flood-hit villages for the second time this week, Punjab Chief Minister Captain Amarinder Singh on Thursday announced that his government would canalize all the rivers of the state, taking technical support from World Bank (WB) and Asian Development Bank (ADB).
Going around the Sarupwal in Sultanpur Lodhi sub-Tehsil, where the overflowing river Sutlej led to a breach in Dhusi bund, affecting 62 villages, the Chief Minister also promised due compensation to the affected farmers as soon as the water recedes and special girdawri is completed.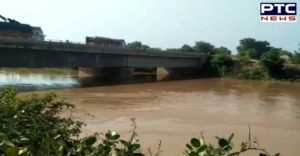 Talking to media after an aerial survey to assess the damage caused by flooding in Sultanpur Lodhi (Kapurthala) and Jalandhar areas, the Chief Minister announced a project to project to realign river streams and courses, besides strengthening and widening of the river embankments for a permanent solution to the problem of floods.
Captain Amarinder also announced dedicated village-relief teams in the affected areas. Each team would comprise officers of Health, Civil Supply, and Animal Husbandry departments, and would ensure regular and timely supply of food, medicines and fodder for all affected families.
In response to a question, the Chief Minister further said nothing would be allowed to hamper the 550th birth anniversary celebrations of Sri Guru Nanak Dev Ji, and his government was geared up to celebrate the historic occasion in a befitting manner.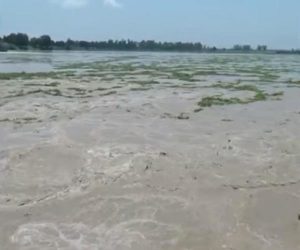 The Chief Minister, who earlier on his way to Kapurthala conducted an aerial survey of flood-affected areas of Nawanshahr and Ludhiana, told media persons in Gidderpindi in Jalandhar district that even if the central government fails to extend support, the state would ensure full support to every person affected by the flooding. It may be recalled that he had written to the Prime Minister yesterday, seeking a special flood relief package for the state.
Captain Amarinder inspected the breach site in Gidderpindi, resulting from the release of excess water from Bhakra dam. For the first time, Bhakra, which normally gets filled to its permissible storage level of 1680 feet by September, was overflowing in August, for the first-ever time said the Chief Minister.
Captain Amarinder, who is constantly monitoring the flood situation, further ordered the Drainage Department to immediately identify potential breach points and plug those on priority, engaging the Army, NDRF or SDRF, if required.
Captain Amarinder Singh, who had on Monday visited villages of Ropar district, also directed the Deputy Commissioners to keep tight vigil over the situation and maintain close liaison with the Army authorities and immediately apprise them of the nature and quantum of assistance required. He also asked Commissioner, Jalandhar Division, B Purusartha to coordinate the relief works in Jalandhar and Kapurthala districts.
Also Read: Punjab Floods: CM Captain Amarinder Singh announces compensation of Rs 100cr for flood hit areas
Earlier, on his arrival, Captain Amarinder Singh was briefed about the current situation arising out of the Satluj breach by the Deputy Commissioners of Jalandhar and Kapurthala. They apprised the Chief Minister about the various measures undertaken by the administration to provide succour to the needy in this crisis. More than 18,000 packets of dry ration besides water bottles were airdropped yesterday in all the affected villages with the help from Army and NDRF, the Chief Minister was informed by DC Kapurthala, who added that another 5000 packets of food and water would be distributed today.
The Chief Minister was accompanied by Water Resources Minister Sukhbinder Singh Sarkaria, MP Khadoor Sahib Jasbir Singh Dimpa, MP Jalandhar Chaudhary Santokh Singh, MLA Kapurthala Rana Gurjit Singh, MLA Sultanpur Lodhi Navtej Singh Cheema, MLA Shahkot Hardev Singh Laddi Sherowalia, besides Chief Principal Secretary to CM Suresh Kumar, Commissioner Jalandhar Division B Purshartha, IG Jalandhar Range Naunihal Singh, DC Jalandhar Varinder Kumar, DC Kapurthala DPS Kharbanda, SSP Kapurthala Satinder Singh, SSP Jalandhar Navjot Singh Mahal and OSD/CM Gurpreet Singh Dhesi.
-PTC News