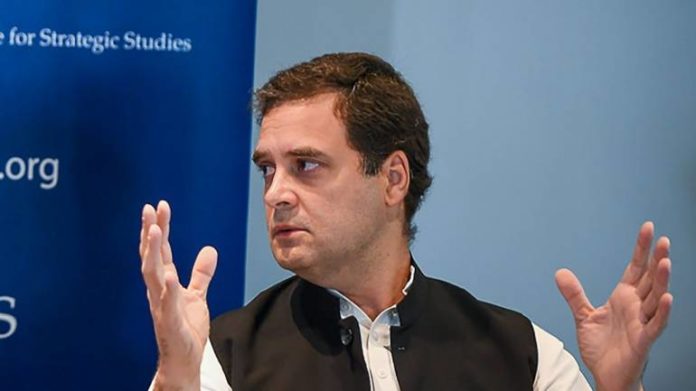 Rahul wanted Chinese ambassador to give him ceremonial see-off: BJP
The BJP has claimed that Congress president Rahul Gandhi wanted Chinese ambassador to give him a ceremonial see-off as he left for the 'Kailash-Mansarovar yatra' today, accusing him of holding brief for China everywhere like a "Chinese spokesperson".
Bharatiya Janata Party spokesperson Sambit Patra sought to know from the Congress as to which politicians and officials Gandhi will meet during his visit to China, "his favourite country".
Patra did not comment on Gandhi's pilgrimage, saying it is a personal visit. 'Kailash Mansarovar' region falls in China.
The BJP leader claimed that the Chinese ambassador had sought required permission from the India government to give Gandhi a ceremonial see off but it did not respond to his letter.
"You are Rahul Gandhi not Chinese Gandhi. Why should the Chinese ambassador want to see off a non-Chinese person? There is no such protocol," Patra told a press conference, asking what is the Congress president's China connection.
"Ye rishta kya kahlata hai? (What is this relationship called)," he asked.
He claimed that Rahul was flying to Nepal from where he would go to China.
In the press conference, the BJP also played a video clip of several comments made by Gandhi in which he highlights achievements of the neighbouring country, and alleged that the Congress president acts like a "Chinese spokesperson".
"Addiction, obsession or something else" was the video's title.
During the Doklam standoff between India and China, Gandhi had met the Chinese ambassador to understand the Chinese perspective without taking the Indian government into confidence or seeking to know Indian perspective, he said.
He also mentioned Gandhi's claim that China gives 50,000 jobs to its people every 24 hours while India could employ only 450 persons everyday and termed them as "comic figures".
"Why he is holding brief for China everywhere as if he is a hired man to advertise China," Patra said.
Also Read: Indians abroad celebrate Independence day with traditional fervour
The Gandhi family was a guest of the Chinese government during the 2008 Olympics in the country and the Chinese ambassador had gone to airport to see its members off, Patra said, questioning the kind of relations it has with the country.