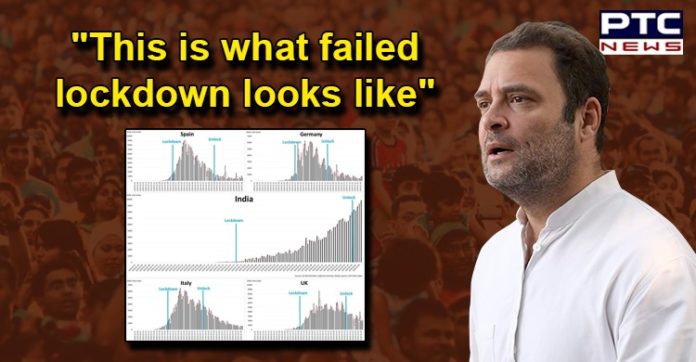 While India has been reporting around 9000 cases for past few days, Congress leader Rahul Gandhi has questioned the government's lockdown strategy to combat coronavirus. Rahul Gandhi compared India's coronavirus graph to other countries and said that "this is what a failed lockdown looks like."

Earlier, Rahul Gandhi, had said that India is the only country to have relaxed the lockdown while coronavirus cases are rising. He also shared the graphs of Spain, Germany, Italy and the UK, which had shown a decline in cases after the lockdown.

The former Congress president had also said that "India is the only country where the coronavirus cases is rising and we are removing the lockdown. The aim and purpose of the lockdown have failed. India is facing the result of a failed lockdown."
This is what a failed lockdown looks like. pic.twitter.com/eGXpNL6Zhl

— Rahul Gandhi (@RahulGandhi) June 5, 2020
India witnessed a record single-day spike of 9,887 coronavirus cases and 294 deaths on Saturday, taking the nationwide tally to 2,36,657 and the death toll to 6,642, according to the Ministry of Health and Family Welfare. Currently, India is sixth among the countries worst-hit by the coronavirus pandemic after US, Brazil, Russia, Spain and the UK.
Also Read | Punjab government issues guidelines for opening of shopping malls, restaurants and religious places
Gandhi has also asked the government to spell out what is its Plan B. The four stages of lockdown have not produced the results that Prime Minister Narendra Modi had expected, he said.
-PTC News