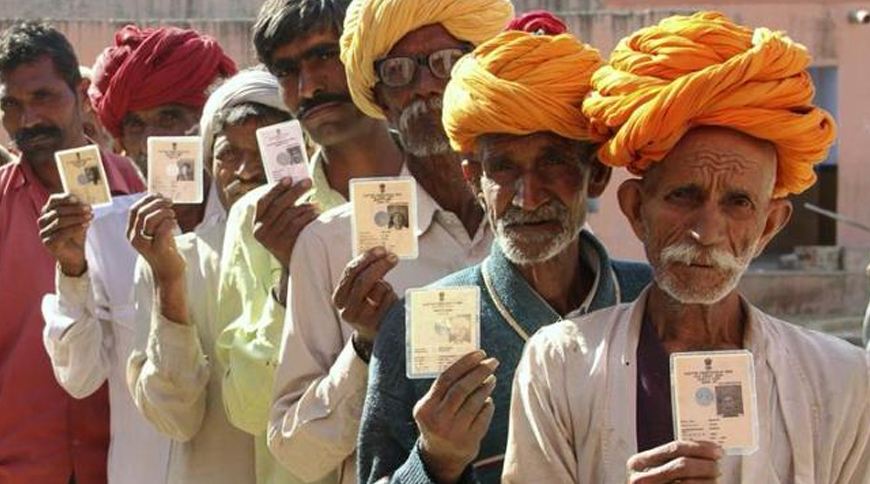 Rajasthan bypolls voting began on a low note on Monday for the bypolls in Ajmer and Alwar Lok Sabha constituencies and Mandalgarh Assembly seat.
In the first two hours an average voting turnout of 5.35 per cent was recorded.
As per the office of the chief electoral officer, Alwar recorded 5.42 per cent voter turnout, Ajmer recorded 5.25 per cent voting, at the same time the voter turnout in Mandalgarh Assembly constituency was 6.42 per cent.
There are 39,02,168 voters, EVM machines with photos of candidates affixed them are being used for the polling.
There are 41 candidates in three constituencies, 11 candidates in the fray in Alwar Lok Sabha seat, 23 in Ajmer Lok Sabha and 8 candidate in Mandalgarh Assembly constituency.
The bypolls have been necessitated due to the deaths of Ajmer MP Sanwar Lal Jat, Alwar MP Chand Nath and Mandalgarh MLA Kirti Kumari (all of BJP) last year.
Counting of votes will take place on February 1.
The BJP has fielded Labour Minister Jaswant Singh Yadav and former union minister Sanwar Lal Jat's son Ramswaroop Lamba as its candidates for Alwar and Ajmer Lok Sabha seats, respectively, while Shakti Singh Hada is contesting bypolls as BJP candidate from Mandalgarh Assembly constituency in Bhilwara district.
The Congress has fielded Vivek Dhakad as its candidate in Mandalgarh Assembly constituency, former MLA Raghu Sharma on Ajmer Lok Sabha seat and Karan Singh Yadav in Alwar lok Sabha constituency.