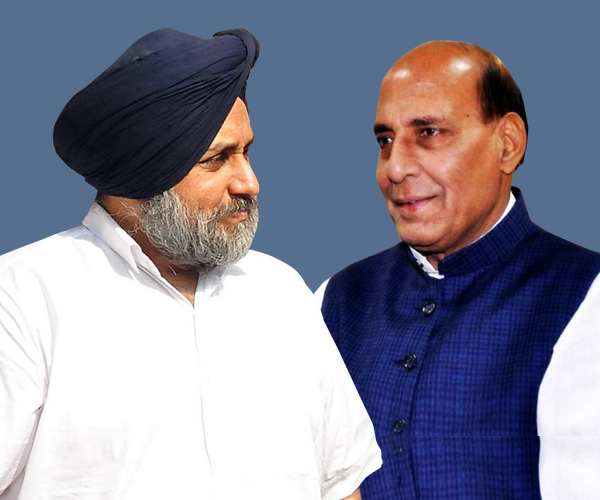 Sukhbir Badal urges home minister to get holy Granth Sahib restored to its original place of worship with immediate effect.
Shiromani Akali Dal (SAD) president Sukhbir Singh Badal today urged union home minister Rajnath Singh to get the incident of shifting of Shri Guru Granth Sahab from the precincts of Gurudwara Gurudongmar in Sikkim to another place inquired into to assuage the hurt feelings of the Sikh community.
In a statement here, the SAD president said according to news which had filtered in from Sikkim, the Granth Sahab and other religious objects had been removed from Gurudongmar gurudwara in contravention to the Sikh 'rehat maryada'  and then arbitrarily shifted to Gurdwara Nanak Lama, Chungthang recently.
Mr Badal said the incident was shocking considering that Gurudwara Gurudongmar had been functioning as a religious place of worship since a number of decades. He requested that the Granth Sahib be restored to its original place of worship. He said the Home ministry could also send an advisory to the local authorities in Sikkim to ensure the sanctity of the gurdwara was not violated again.
The SAD president also commended the Shiromani Gurdwara Parbandhak Committee (SGPC) for promptly sending a three member team, including a retired army officer, to Sikkim to examine the issue and obtain a firsthand report. He said as per historical accounts the gurdwara marked the spot where Guru Nanak Dev ji used a dong to make water spout out from the ground when people complained about lack of water during his visit to the site. The spring which sprang up following the Guru's blessings has formed a high altitude lake at 1,800 feet near the India- China border.
Mr Badal said the gurdwara had attained special significance in Sikhism and was revered for its link with the first Guru. "No one should be allowed to play with its maryada and it should be restored to its former glory as soon as possible", he added.
-PTC News