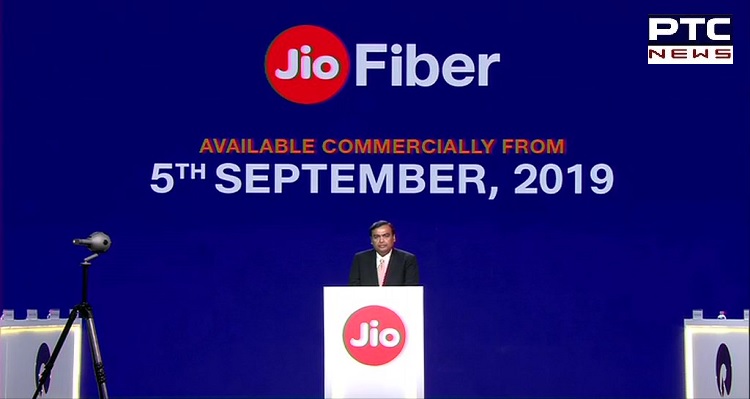 Reliance AGM 2019: RIL Chairman Mukesh Ambani has announced the Jio Fiber data plans during the 42nd Annual General Meeting (Post-IPO) of Reliance Industries Ltd, in Mumbai, on Monday. He announced that the Jio Fiber will be launched on September 05, 2019, whose base package will be priced at Rs 700 and will offer 100 Mbps. Earlier, Reliance announced the Jio Fiber service on August 12, last year, but no data plans and speed was revealed.
Jio Fiber data plans
The cheapest data plan of Jio Fiber is priced at Rs 700 per month with speed up to 100Mbps. The highest package is priced at Rs 10,000 per month which includes access to the broadbands, Jio HomeTV and Jio's IoT.
Jio Fiber packages will include landline services as well. Also, as per the plan, the voice calling will be free. Jio Fiber will but down the ISD Calling tariff from 1/10th to 1/5th of industry rates. Mukesh Ambani said, "we are giving unlimited US/Canada package at Rs 500 per month.
Also Read: List of smartphones in your budget after price drops of up to 13,000 plus
Also, RIL Chairman Mukesh Ambani has also announced the Jio Forever Plans which provides the users with an HD or 4k LED television and 4k set-top box for free. The complete information about the tariff will be declared on the launch date i.e. September 05, 2019.
Likewise, Mukesh Ambani said, "80% cost of running a start-up goes towards cloud&connectivity infrastructure. Jio is ready to take away that cost by making cloud and connectivity infrastructure absolutely free for start-ups. Our intention is to start this service from 1 Jan 2020."
Mukesh Ambani on Jammu and Kashmir: 
He said, "Responding to the call of PM Narendra Modi Ji, we stand committed to the needs of the people of Jammu and Kashmir and Ladakh. You will see several announcements for the Jammu and Kashmir and Ladakh in the coming days".
-PTC News