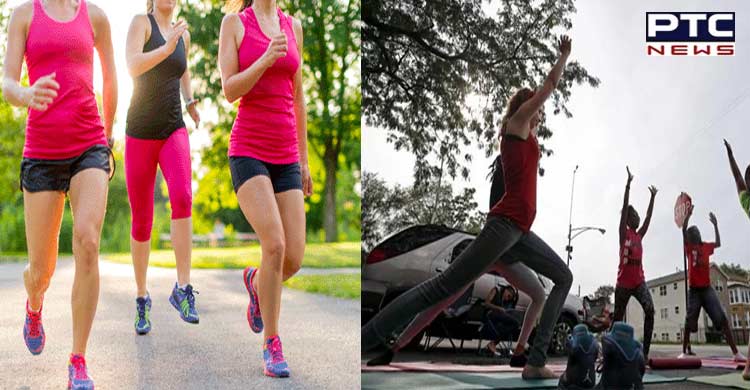 Washington (US), July 28: Persons who engage in two to four times the amount of weekly moderate or vigorous physical exercise have a considerably reduced risk of mortality, suggests a new study.

According to the new study, those who engaged in two to four times the recommended amount of strenuous physical activity each week had a reduction of 21-23%, and for those who did the same amount of moderate physical activity each week, it was 26-31%. The findings of the research have been published in the American Heart Association's flagship, peer-reviewed journal Circulation.
Regular physical activity has been proven to reduce the risk of cardiovascular disease and premature death. The Physical Activity Guidelines for Americans published by the US Department of Health and Human Services in 2018 recommended that adults engage in at least 150-300 minutes per week of moderate physical activity or 75-150 minutes per week of vigorous physical activity or an equivalent combination of both intensities. The current American Heart Association recommendations, based on the HHS Physical Activity Guidelines, call for at least 150 minutes per week of moderate-intensity aerobic exercise or 75 minutes per week of vigorous aerobic exercise, or a combination of the two.
"The potential impact of physical activity on health is great, yet it remains unclear whether engaging in high levels of prolonged, vigorous or moderate-intensity physical activity above the recommended levels provides any additional benefits or harmful effects on cardiovascular health," said Dong Hoon Lee, Sc.D., M.S., a research associate in the department of nutrition at the Harvard T.H. Chan School of Public Health in Boston. "Our study leveraged repeated measures of self-reported physical activity over decades to examine the association between long-term physical activity during middle and late adulthood and mortality."
Also Read | Amit Shah to visit Chandigarh on July 30; traffic police issue advisory
From 1988 to 2018, researchers analyzed mortality data and medical records from two large prospective studies: the all-female Nurses' Health Study and the all-male Health Professionals Follow-up Study. The study's participants were 63 percent female and more than 96 percent white adults. Over a 30-year span, they had an average age of 66 years and a body mass index (BMI) of 26 kg/m2.
Every two years, participants self-reported their leisure-time physical activity by completing a validated questionnaire for the Nurses' Health Study or the Health Professionals Follow-Up Study.
The publicly available surveys, which were updated and expanded every two years, asked about health information, physician-diagnosed illnesses, family medical histories, and personal habits like cigarette and alcohol intake and exercise frequency. The average time spent per week on various physical activities during the previous year was recorded as exercise data. Walking, low-intensity exercise, weightlifting, and gymnastics were all considered moderate activities. Jogging, running, swimming, bicycling, and other aerobic exercises were among the vigorous exercise.
The study discovered that persons who engaged in twice the current recommended amount of moderate or vigorous physical exercise each week had the lowest long-term risk of mortality.
Also Read | Centre floats tender to develop monkeypox vaccine, diagnostic kits
-PTC News