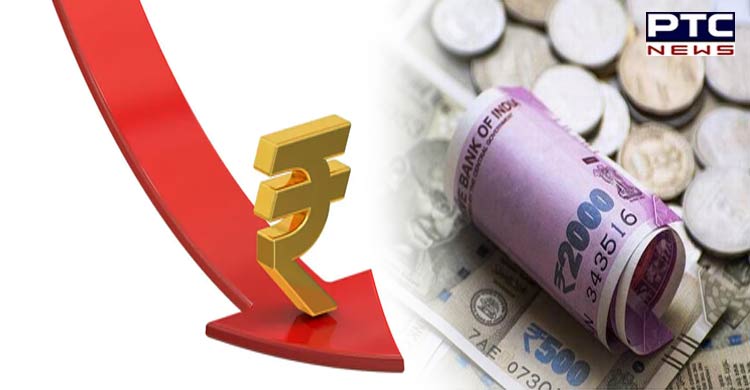 Mumbai (Maharashtra), July 11: Amid weakness in the equity markets, the Indian rupee slumped by 23 paise to hit a fresh record low of 79.49 against the US dollar on Monday.

The partially convertible rupee began trading on Monday at 79.30 against the US dollar in the interbank foreign exchange market, down from its Friday close of 79.26. In intraday trade, the rupee fell to a low of 79.49.
This is the new record low of the value of the Indian rupee against the US dollar. Previously, the rupee's hit a record low of 79.38 against the US dollar last week.
The Indian currency closed the day at 79.48 against the US dollar. In the intra-day, it reached a high of 79.24.
The rupee has dipped amid the selling pressure in the equities markets. Indian stock market major indices, Sensex and Nifty plummeted on Monday dragged by heavy selling pressure in IT and telecom stocks.
Tata Consultancy Services (TCS) fell by around 5% as a result of the weak Q1 results. The stock was down 4.39 percent, selling for Rs 3121.40.
Also Read | PM Modi unveils 6.5m long, bronze national emblem on new Parliament building
The largest IT company in the country, TCS, recorded a net profit of Rs 9,478 crore for the first quarter of the current financial year, up from Rs 9,008 crore for the same period last year, representing an increase of 5.21 per cent year over year. The company's profit is far less than what the market anticipated. For the quarter that ended on June 30, the company's revenue increased 16.2% from the prior year to Rs 52,758 crore.
The value of the Indian currency has been under pressure due to the growing trade deficit. India's trade deficit increased to $25.63 billion in June, according to data recently released by the Ministry of Commerce and Industry. The trade deficit for the first three months of the current fiscal year increased to $70.25 billion.
Due to the heavy imports, the nation's trade deficit has grown. India's merchandise imports for the months of April to June 2022–23 totalled $187.02 billion, up 47.31% from $126.96 billion during the same period the previous year.
India's exports of goods increased by 22.22 percent to $116.77 billion in the first quarter of the current fiscal year from $95.54 billion in April to June of last year.
In June 2022, India's exports of goods rose by 16.8% to $37.9 billion, while imports jumped by 51.02% to $63.58, resulting in a trade deficit of $25.63 billion for the month.
Also Read | Sidhu Moosewala murder: SC refuses to entertain plea to transfer case to CBI
-PTC News