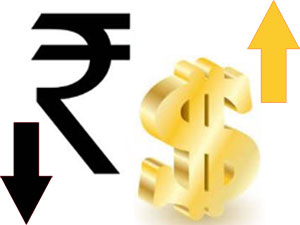 The demand for the American currency from banks and importers weakens rupee by 14 paise.
The INR has opened at 63.72 against the US dollar in early trade today at the Interbank Foreign Exchange.
As per reports by forex dealers, the US dollar gained against some currencies overseas on strong jobs data, giving rupee a back seat.
However, a higher opening of the domestic equity market capped the rupee's losses.
Continuous foreign capital inflow appreciated rupee by 11 paise to a brand new high of 63.58 against the US Dollar on Friday.
Meanwhile, the benchmark BSE Sensex rose further by 61.11 points, or 0.18 per cent, to 32,386.52 in early trade today, and Nifty was quoting 19.10 points or 0.19 per cent higher at 10,085.50.
—PTC News