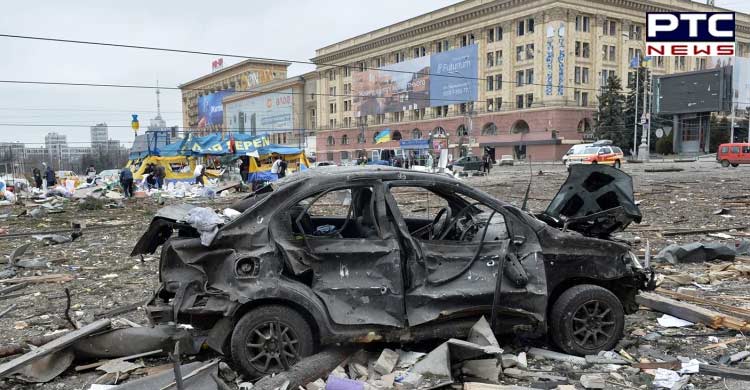 Russia-Ukraine War Day 10 Highlights: The war between Russia and Ukraine is getting intense with the number of casualties rising day by day. The second round of talks between Russia and Ukraine decided to organize humanitarian corridors to evacuate the civilians stranded in the war-torn country.

Ukrainian President Volodymyr Zelenskyy will talk to the US Senators on Saturday on a video conference call, according to a person familiar with the invitation from the Ukrainian embassy.
Russia-Ukraine War Day 10 Highlights:
18:00 pm| Russian flag-carrier Aeroflot halts all international flights from March 8
17:42 pm| As per Ukraine President Zelensky, around 16,000 foreign fighters are expected in Ukraine. About 200 of mercenaries from Croatia have already entered the country through Poland and joined uncontrollable nationalist units in the South East of Ukraine: Russian Embassy.
17:39 pm| US launched a large-scale campaign to recruit private military outfits such as Academi, Cubic, and DynCorp. The French Foreign Legion also plans to send ethnic Ukrainians. A number of fighters are expected to come from Germany: Russian Embassy
17:38 pm|
Western countries have increased the dispatch of mercenaries to the combat zones in Ukraine
. The UK, Denmark, Latvia, Poland, and Croatia have officially allowed their citizens to participate in hostilities on the territory of Ukraine: Russian Embassy.
17:26 pm| Ukrainian FM Kuleba urges European nations to close all their ports for Russian ships.
17:07 pm| "I was stranded in Kharkiv, we boarded the train for western Ukraine. We traveled at our own risk as the situation is so horrible that nobody could have evacuated us from there. War is hurting our education prospects," said Akash.
16:47 pm| Vinod B Pillai from Sewa International Europe has been helping people across Ukraine with food & shelter. "We've volunteers in different cities who are helping everyone including Indians. Over 30,000 people including Indians have been supported so far," he said.
16:24 pm| 21-year-old Akhil Radhakrishnan who will be returning to India is glad that the embassy is allowing him to take his cat Ammini along, on the flight. "She is lovely and we are inseparable. I got her about 4-months back from a senior," he said from Hungary, Budapest.
16:10 pm| US Secretary of State Antony Blinken met with Charles Michel, President of the European Council in Brussels as the two discussed their "support for Ukraine's sovereignty and territorial integrity."
15:27 pm| Have advised our students to take safety precautions, stay inside shelters and avoid unnecessary risks. Ministry and our Embassies are in regular touch with the students: Arindam Bagchi, MEA Spokesperson.
15:27 pm| We are deeply concerned about Indian students in Sumy, Ukraine. Have strongly pressed Russian and Ukrainian governments through multiple channels for an immediate ceasefire to create a safe corridor for our students: Arindam Bagchi, MEA Spokesperson stated in a tweet.
15:22 pm| Evacuated 6222 Indians in last 7 days from Romania & Moldova. Got a new airport to operate flights in Suceava (50 km from border) instead of transporting students to Bucharest (500 km from border). 1050 students to be sent home in next 2 days: Jyotiraditya Scindia said in a tweet.
15:06 pm| Under Operation Ganga, Karnataka students have been brought in 39 batches. Around 368 students evacuated, 298 more students from state still stranded there. Expecting the remaining lot from state to be brought in the next 3-4 days: Manoj Rajan, Nodal Officer.
15:01pm|Russian Embassy in India says "Today, on March 5, from 10am Moscow time, Russian side declared a regime of silence & opened humanitarian corridors for civilians to leave Mariupol & Volnovakha. Humanitarian corridors & exit routes have been coordinated with the Ukrainian side."
14:40 pm| Students are still stuck in Sumy. They have nothing to eat & also facing a shortage of water. The ceasefire will help to reach out to borders, says a student who escaped from Kharkiv and reached Rzeszow in Poland.
14:17 pm| Ukrainian Defence Minister Oleksii Reznikov said that 66,224 Ukrainian men had returned from abroad to join the fight against Russia's invasion.
14:12 pm| The embassy of India in Ukraine says they arranged buses to evacuate 298 Indian students from Pisochyn, in Kharkiv.
14:05 pm| Several students are still stuck in Kharkiv. We left Ukraine on March 1st amid bombing & shelling. After crossing the Poland border Indian govt provided us help, says Pratyush Chaurasia who escaped from Kharkiv and reached Rzeszow in Poland.
14:02 pm| When some challenges crop up before the nation, these dynasts look for their political interest in it. If India's security forces & people fight a crisis, they do everything to make situation more critical. We saw this during pandemic &today during Ukraine crisis: PM 
13:32 pm| The ceasefire is declared for 9 am- 4 pm today (local time). The evacuation of civilians is set to start at 11 am. Mariupol, of 440,000 people, and Volnovakha, of 21,000 people, have been largely cut off water, heat, and electricity.
13:31 pm| The prosecutor's office in the Kyiv region has launched criminal proceedings.
13:30 pm| Two people were killed, including a 17-year-old girl, and four others were injured.

13:29 pm| ​​In the Bucha district near Kyiv, Russian forces opened fire on a car with civilians.

13:16 pm| Temporary ceasefire begins in Mariupol and Volnovakha to set up humanitarian corridors. The corridors will serve to evacuate civilians & deliver food & medicine to the cities that have been cut off from the world...: Ukraine's The Kyiv Independent
13:09 pm| Russia's media outlet Sputnik issued a correction & said, "Russia declares ceasefire in Ukraine from 07:00* GMT to open humanitarian corridors for civilians"
12:40pm| Russia declares ceasefire in Ukraine, opens humanitarian corridors for civilians to leave.
12:10 pm| Russia declares ceasefire from 10 a.m. Moscow time to allow civilians to leave Mariupol and Volnovakha.
12:09 pm| At Uttarakhand Sadan in Delhi, CM Pushkar Singh Dhami met students of the state who returned from Ukraine recently.
12:08 pm| Birthday of an Indian student, Kartik was celebrated at a camp on Romanian border yesterday.
11:05 am| Efforts to bring back Naveen Shekharappa's (an MBBS student who died in shelling in Ukraine) body is in progress. We're in touch with the Indian embassy, also spoke to External Affairs Minister, S Jaishankar on the matter: Karnataka CM Basavaraj Bommai.
10:44 am| BJD MP from Odisha, Prasanna Acharya writes to Union Health Minister Mansukh Mandaviya; requests him to "seriously ponder for an immediate alternative arrangement for students who were forced to abandon their studies half-way in view of the situation."
10:29 am| Air raid alert in Kyiv. Residents should go to the nearest shelter: Ukraine's The Kyiv Independent.
10:00 am| Amid the ongoing evacuation of Indian medical students from #Ukraine, National Medical Commission (NMC) allows Foreign Medical Graduates with incomplete internships due to compelling situations like the Covid19 & war...to apply to complete internships in India if they clear FMGE
9:56 am| Fighting underway in Ukraine's Sumy, civilians asked to seek shelter. Fighting has erupted on the streets of the Ukrainian city of Sumy. Residents have been asked to stay at home or go to a safe place.
9:30 am| Russia poised to deploy 1,000 mercenaries to Ukraine for full-scale invasion, says US.The US has said Russia is poised to deploy up to 1,000 mercenaries for a full-scale invasion of Ukraine. The US has already seen "some indications" that Russian mercenaries may be involved in Moscow's full-scale invasion of Ukraine "in some places," a senior defence official said earlier this week.
9:04 am| Russia has fired more than 500 missiles in the week since its full-scale invasion of Ukraine began. Russia is launching all different types of missiles at a rate of about two dozen per day, a Pentagon official said: Ukraine's The Kyiv Independent
8:40 am| US Senators invited to speak with Ukraine President Zelenskyy. Democratic and Republican senators in the US have received an invitation to attend a Zoom meeting with Ukrainian President Volodymyr Zelenskyy as the crisis escalates with Moscow.
8:16 am| Samsung Electronics said that shipments to Russia have been suspended "due to current geopolitical developments."
"We continue to actively monitor this complex situation to determine our next steps," the company said in a statement. Samsung is also donating $6 million, including $1 million in consumer electronics, as well as voluntary donations from employees, to actively support humanitarian efforts "around the region," including aid for refugees, it said
8:00 am| Ukrainian port city Mariupol 'blockaded' by Russian forces, says mayor. The mayor of the Ukrainian port city of Mariupol has said Russian forces have 'blockaded' the city. This comes as the war entered its second week, with Moscow having control over Kherson and now escalating military aggression on other key cities.
-PTC News