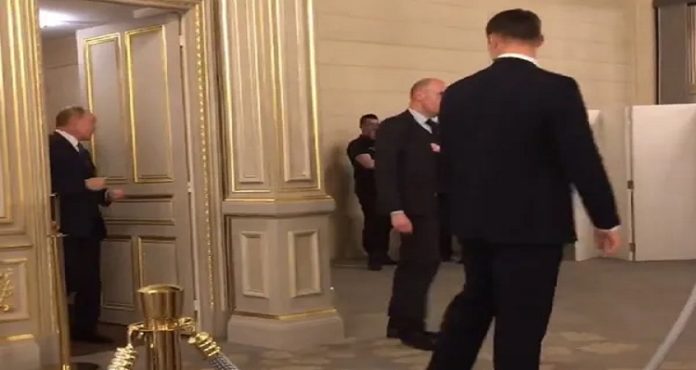 Russian President Vladimir Putin is known to have a macho image for the past 19 years. Be it horse or testing a sniper rifle in the Moscow region, Putin knows how to grab eyeballs with his 'extra-curricular' activities. Earlier, Putin demonstrated his equestrian skills as he mounted a horse and rode in formation with female officers.
Few months later, Putin was seen taking a victory lap after scoring a few goals in an exhibition match when he fell flat on his face after tripping on a red carpet. In a recent viral video, Putin was captured going to the toilet with six bodyguards while attending the Ukraine Summit in Paris.
Watch it here: 
So I'm counting 6 people accompanying Vladimir Putin to the toilet… pic.twitter.com/BjG5N5IpDR

— Jonah Fisher (@JonahFisherBBC) December 9, 2019
The video sheds light on the seriousness and strength of the security that Vladimir Putin gets as the President of Russia. In a video, as many as  five bodyguards were surrounding Putin, in an order to ensure the saftey of him, as he made his way to the bathroom. During the Ukraine Summit, Putin appointed one of his armed guards as a delegation member so that he could sit with him.
While his 'toilet' video got viral on social media, German Intelligence chief said that "Putin's security decisions were an 'open provocation and threat'". Meanwhile, a user wrote, "Six is reasonable at Putin's level. I once saw two wingmen accompany Ted Turner to the loo." "Can you blame him? People are falling out of windows on the ground floor," another user said.
Kanpur: PM Narendra Modi falls on the stairs at Ganga ghat [VIDEO]
The Ukraine summit was attended by Vladimir Putin, German Chancellor Angela Merkel, French President Emmanuel Macron, and Ukranian President Volodymyr Zelensky.
-PTC News