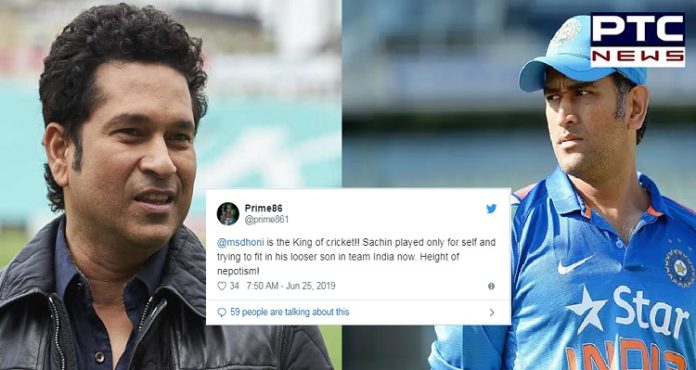 Ahead of ICC Cricket World Cup 2019, the master-blaster Sachin Tendulkar has become the latest victim of troll army over his statement on the favorite Mahendra Singh Dhoni aka MS Dhoni or Maahi. Sachin Tendulkar made a remark on MS Dhoni's limit performance during India vs Afghanistan match at Southampton in ICC Cricket World Cup 2019. "I felt slightly disappointed, it could have been much better. I was also not happy with the partnership between Kedar and Dhoni, it was very slow", said Sachin Tendulkar.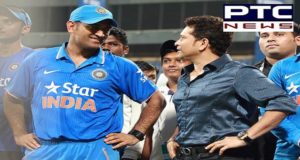 "We batted 34 overs of spin bowling and scored 119 runs. This was one area where we didn't look comfortable at all. There was no positive intent", Sachin Tendulkar quoted as saying by India Today. Sachin Tendulkar said that senior player Mahendra Singh Dhoni should have taken charge while Kedar Jadhav was hardly on a test in the tournament. These remarks were somehow valid keeping in mind the totality of the tournament, but the super fandom of MS Dhoni started trolling Sachin Tendulkar on social media.
For me Dhoni>>>>>>>>>>>>>>>>>>>>Sachin ?

Admit or die??

— SANIA(Am sorry Aman??)??✨✨ (@Twinklingsania) June 24, 2019
@msdhoni is the King of cricket!! Sachin played only for self and trying to fit in his looser son in team India now. Height of nepotism!

— Prime86 (@prime861) June 25, 2019
Pic 1 : Sachin about missing his 200

Pic 2 : Dhoni about missing his 100

One said disappointed and upset for missing his miletone.

The other said it's doesn't matter for him whether he get 100 or not. pic.twitter.com/79Rnd816g3

— #theCSKguy (@whistIepodu) June 24, 2019
1) audience watching
MS Dhoni : The untold story

2) audience watching
Sachin: A billion dreams pic.twitter.com/FybWGp9m17

— Neeche Se Topper (@NeecheSeTopper) June 24, 2019
The same man that won you the World Cup which you couldn't win in your whole career with one of the best Indian players around. Sachin acting like he was some big hitter, man used to struggle in his 90s. Someone should pull up his strike rate when he's been in the 90s??‍♂️ #Dhoni? pic.twitter.com/hCVQ5aBI9h

— Nim (@Nirmal_A) June 24, 2019
Sachin Runs in 2003 and 2011 Worldcup finals combined : 22 Runs

Dhoni's Runs in one Worldcup final:91 Runs

? ? ???????

— . (@_cleanbowled) June 24, 2019
With all due respect, @sachin_rt Sir, everybody seen that pitch was reacting very slowly and ball was not coming to the bat properly. I am not saying that dhoni played very well but i must say again that nobody can teach what is @msdhoni's job and how to do it. #CWC19 #INDvAFG

— A 2.0 ?? ? (@AStrangeSoul) June 24, 2019
Also Read: ICC World Cup 2019: Virat Kohli shares throwback comparing a picture from India vs Pakistan
Sachin Tendulkar has made his debut in the commentary box through ICC Cricket World Cup 2019. Sachin Tendulkar is said to be the God of Cricket as he has given a lot of milestone to the nation during his era. Now, the Indian team led by Virat Kohli is in the stronghold to qualify for the knock-out stage in ICC Cricket World Cup 2019. India in their next will face West Indies, England, Bangladesh, and Sri Lanka in the ICC Cricket World Cup 2019.
-PTC News