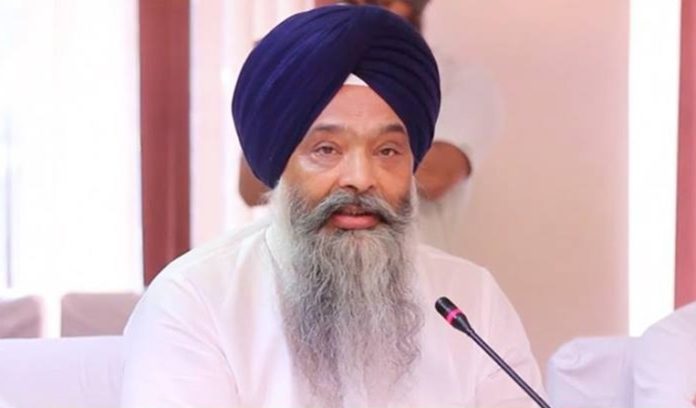 SAD Asks Jakhar To Stop From Cheap Photo Ops To Generate Cheap Publicity
The Shiromani Akali Dal (SAD) today asked Pradesh Congress president Sunil Jakhar to desist from bogus photo-ops to generate cheap publicity and tell Punjabis why the Congress government was not fulfilling its promise of 'ghar Ghar naukari' and an employment allowance of Rs 2,500 per month to all unemployed youth.
In a statement here, senior SAD leader and mp Prof Prem Singh Chandumajra said it was shocking that Sunil Jakhar was resorting to photo-ops in front of parliament to demand jobs for youth instead of forcing the Punjab government to fulfil the promises made to them. "The PPCC president has become fond of stage managing protests to shift focus from his failure to take the Punjab government to task and force it to deliver. He did this on the issue of petrol and diesel prices after failing to get the Congress government to reduce taxes on the petrol products, which are the highest in North India, by even one paisa. Now he has again marched to Delhi with a 'charkha' to demand jobs not realizing it is his duty also to ensure jobs for the youth of Punjab".
Prof Chandumajra said in the run-up to the 2017 assembly elections Jakhar raised the slogan of "Capt ne saunh chukki, har ghar naukari pucci". He said now after one and a half years Punjab had only witnessed the family of a former Congress chief minister – Beant Singh being rewarded with a job with the former CM over aged grand-son being appointed as a Deputy Superintendent of Police (DSP). The Akali leader said around 19 lakh youth had filled application forms to register for jobs which were to be provided by the Congress government. "These youth have neither got the promised jobs nor the committed Rs 2,500 per month allowance".
The Akali mp said Ludhiana mp Ravneet Bittu, who had also participated in the cheap publicity stunt along with Jakhar, should tell Punjabis why he chose to prevail upon the government to bypass rules and appoint his over-aged brother as DSP instead of pressurizing the chief minister to give jobs to the youth of his constituency. "How many jobs does your family need? You are an mp, your brother is a legislator, your uncle and aunts have served as ministers. How much will be enough for you before you start demanding jobs for Punjabis from your own government in the State? Prof Chandumajra asked.
As for national employment figures, the Akali mp said Jakhar and company should at least do their economic homework before staging such gimmicks. He said the unemployment rate had gone down to 4.5 per cent presently from 9 per cent during Congress-led UPA rule.
The Anandpur Sahib mp said it would have been better for Jakhar to reflect upon the ground reality and thank Prime Minister Narendra Modi for the record increase in MSP of paddy and cotton which had given a direct benefit of Rs 6,000 and Rs 10,000 per acre to farmers. "But it is easier for the PPCC chief to stage sham four men protests rather than work to get the promises made to youth, farmers and the poor fulfilled by the Punjab government", he added.
-PTC NEWS