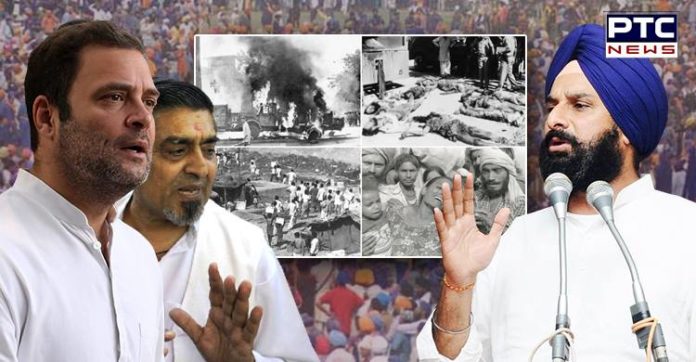 SAD says Congress pouring salt on Sikh wounds by holding protests on Prakash Purab
The Shiromani Akali Dal (SAD) today said the Congress party was pouring salt on the wounds of the Sikh community by holding protests on the occasion of Prakash Purab of Sri Guru Granth Sahib ji.
In a statement here, former minister Bikram Singh Majithia said the manner in which the Congress had planned country wide protests today on the occasion of one of the most reverent days of the Sikh community proved how much respect the Congress party as well as the Gandhi family had for Sikh religion, culture and sentiments.
Mr Majithia said it was doubly painful that the protests were led by the likes of 1984 Sikh genocide perpetrator Jagdish Tytler and Sajjan Kumar. He said it was shocking that the Congress party was actively bringing Tytler into mainstream politics under the leadership of Rahul Gandhi.
The Akali leader asserted the Gandhi family had a history of sheltering Tytler and Sajjan. "Both these perpetrators of the most gruesome massacre in modern day history have been rewarded with plum posts. No action has been taken against them even after Tytler boasted that he had killed 100 Sikhs. It seems as if the Congress party and the Gandhi family particularly is afraid that the duo will spill the beans to the Supreme Court appointed SIT and give testimony which will implicate the Gandhi family in the 1984 mass murders".
Also Read: Vijay Sampla urges Capt Amarinder to reconsider stay in Congress
Mr Majithia said it was telling that all this was happening days after Congress president Rahul Gandhi tried to whitewash the stain of the organized massacre of Sikhs in 1984 as per Congress party pogrom by stating that only individuals and not the party was connected with the mass murders. "This shows there is a design to protect and shelter Tytler and Sajjan and that Rahul Gandhi is doing this to ensure his family's role in the 1984 Sikh killings is not exposed in court".
The Akali leader said Rahul Gandhi was doing all this despite the fact that the Congress role in the 1984 mass murders was well documented and even former Prime Minister Dr Manmohan Singh had apologized for the same. "It seems Rahul Gandhi is trying to rewrite history following pressure from Tytler and Sajjan and this is also why they are being given prominence in the party by being allowed to participate and lead protests on the issue of petroleum products today".
Asserting that that SAD would not allow this diabolic plot to succeed, Mr Majithia said the party would take its fight against Tytler and Sajjan as well as all other massacre perpetrators to its logical conclusion and ensure they are awarded the maximum punishment as per the law of the land.
-PTC NEWS