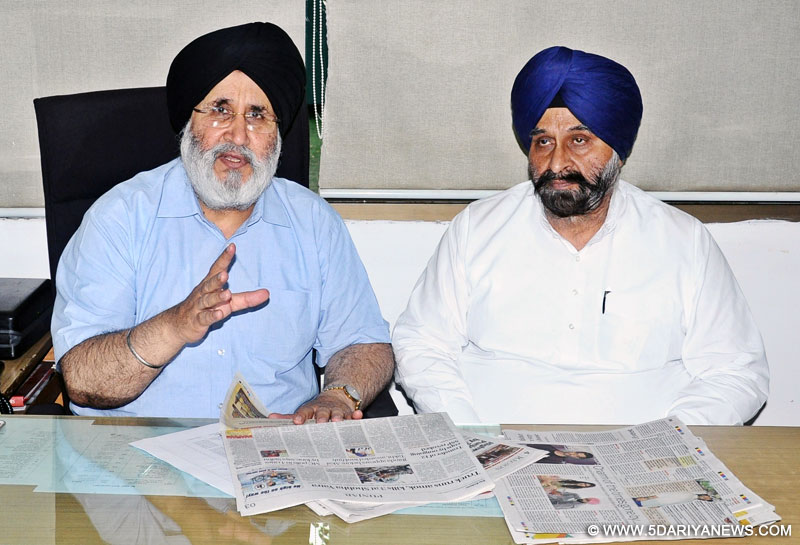 Chandigarh, Dec 6- The opposition Shiromani Akali Dal (SAD) on Wednesday demanded cancelling of a notification of elections to two municipalities and two nagar panchayats in Punjab in view of "firing and incidents of violence" there.
A party delegation led by its senior vice president Dr. Daljit Singh Cheema met Punjab State Election Commissioner (SEC) Jagpal Singh Sandhu and submitted "photographic evidence" of violence.
According to a party release, the party demanded that elections to Mallanwala and Makhu nagar panchayats in Ferozepur district and municipalities of Ghanaur in Patiala district and Baghapurana in Moga district be cancelled.
"It also brought to the notice of the SEC that violence had occurred at these four places despite continuous complaints to the SEC during the last three days that the district administrations were not heeding its directions," said the release.
Cheema said that in Mannawala and Makhu, no SAD candidate was given clearance to contest the poll despite a complaint filed before the SEC on Tuesday.
He alleged that senior SAD leaders, including former MLA Joginder Singh Jindu, district president Avtar Singh Zira and Vardev Singh Mann, were attacked when they were proceeding to the market committee office in Makhu to get nominations of Akali candidates filed.
He said Avtar Singh Zira received injuries in the attack, while the vehicle of Vardev Singh Mann and some other vehicles of their supporters were vandalised by miscreants. "Shots were also fired at the car of Avtar Singh Zira and one bullet even pierced through it," Cheema claimed.
The Akali leader alleged that in Baghapurana his party workers were attacked when they were going to file nominations.
He said 14 out of 15 candidates could not file their nominations due to violence.
Cheema said the eight Akali workers were injured in the attack. Baghapurana Urban president Pawan Dhand suffered a major fracture in his arm.
Cheema accused a Congress MLA in Ghanaur of snatching away the nomination papers from the hands of Akali candidates and tearing them in the office of the sub-divisional magistrate.
Elections to three municipal corporations, and 32 municipal councils and nagar panchayats in Punjab are scheduled for December 17. PTI