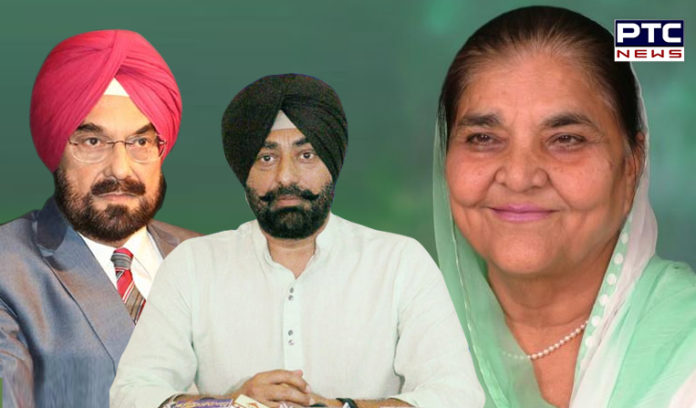 SAD lambasts AAP leader of the party Sukhpal Khaira and his colleague Kanwar Sandhu of remaining selectively silent when modesty of women aspirants of AAP ticket was violated by the APP leaders descending from Delhi in run up to  last assembly polls, former finance minister Upinderjit Kaur said  that the duo owe an explanation  to the people  of Punjab for their sins.
Since Sandhu and Khaira themselves have revealed these startling shameless inside stories, Upinderjit Kaur asked them  what prevented the duo from raising their voice against the unholy acts of then their  party bosses  while Punjabi women suffered all these humiliations.
Upinderjit Kaur said that the exploitation of women in the state was intriguing and baffling to all right thinking people. Who in his senses would tolerate such developments in the party?   Perhaps, the self seekers Khaira and Sandhu adopted stoic silence in their own interest then but now suddenly their conscience has woken up when their own interests are threatened.
Moreover, Khaira and Sandhu have alleged that the party tickets were sold otherwise the AAP would have come to power. Upinderjit Kaur asked what stopped the  duo from speaking up against the nefarious style of the AAP leadership. " Obviously, the  duo preferred not to raise their voice against leaders then but were now taking  high moral ground when the party has cornered them and divested them of all powers.", she added.
 Upinderjit Kaur pointed that Khaira, who had been champion of forging alliance with Congress and be part of the grand alliance, has suddenly taken a U-turn and become hyper- hostile to the Congress and blamed its top leadership for divesting him of his coveted post of leader of opposition.
In fact, Khaira had been stooge of Gandhi family but it appears that he has suddenly fallen from its grace, she added.
Commenting on the fate of AAP, senior Akali leader said that its fate is already sealed in Punjab and it would split and there would be splits within splits as prelude to its total decimation in run up to the 2019 Lok Sabha polls.
When there was just a whisper that the AAP would be part of the grand alliance for 2019 polls, its former leader of legislative party (LoP) HS Phulka had threatened to walk out of the party and alliance arguing that he can't have any truck with the anti –Sikh and anti-Punjab party like Congress whose hands are soaked with the blood of the Sikhs in the anti-Sikh riots in 1984. The Akali leader said that despite Phulka being leader of a rival party, the SAD appreciated his principled stand and conviction.
 The Akali  leader said," Khaira turned literally abusive on Congress and his own party too. Perhaps, Khaira has no principles or commitment. He is over ambitious and deceitful who changes colours faster than chameleon. One day, he would go for Congress and on other he would lap up Bains-at one time, he would toe AAP top brass while on other occasion talk of total autonomy for the state unit. Mercurial Khaira should not be taken seriously," she added.
-PTC NEWS