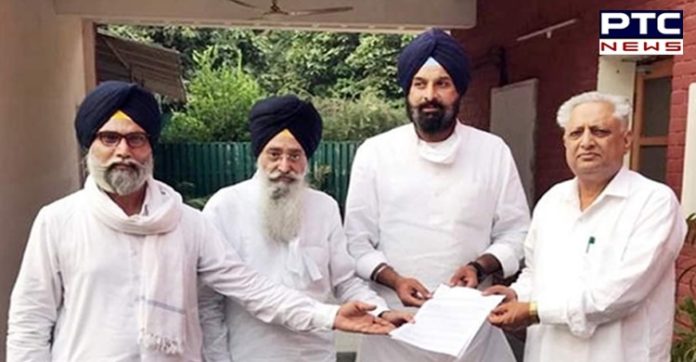 The Shiromani Akali Dal (SAD) today moved a private member bill calling for removing the amendments made in the Punjab Agricultural Produce Markets Act, 2017 to prevent the farmers of the State from being exploited at the hands of private entities.

Also Read | 3 held in Ludhiana for looting Muthoot finance company's office, 10 bullets fired
SAD legislature party leader Sharanjit Singh Dhillon moved the Bill and submitted the same to the Vidhan Sabha secretariat here. The Bill seeks to undo the damage caused to farmer interests by the amendments introduced in the Punjab Agricultural Produce Markets Act 2017 by the Capt Amarinder Singh led Congress government.
Giving the statements and objects of the new Bill, Mr Sharanjit Dhillon said the amended Act of 2017 had put farmers at the mercy of private players as far as pricing and sale of their produce was concerned. He said establishment of private marketing yards and direct purchase of produce from farmers had taken away the protection which had earlier been given under the Act.
Stating that it was of utmost urgency to protect the interests of farmers of the State, Mr Dhillon requested Vidhan Sabha Speaker Rana K P Singh to allow the amendment Bill to be introduced in the forthcoming special assembly session by waiving off the mandatory notice period of fifteen days needed to move the Bill.
"I have made this request keeping in view the non-availability of the mandatory period due to the present special circumstances", the SAD legislature party leader said.
Asserting that the SAD had fulfilled its duty towards the 'annadaata', Mr Dhillon said "we have moved two separate Bills calling for making the entire State one 'mandi' (principal market yard) as well as doing away with the amendments made in the Agri Produce Markets Act in 2017.
Also Read | PM Modi releases Rs. 75 commemorative coin to mark 75th year of FAO
Now the ball is in the Congress government's court. If it does not accept these Bills, which reflect the sentiments of Punjabis, then it will be clear that the government is playing a fixed match and is anti farmers, khet mazdoor and arhatiyas".
Mr Dhillon also asked Chief Minister Capt. Amarinder Singh to make his position clear on the private member Bills moved by the SAD.
"The chief minister has flip- flopped on calling an assembly session and did so only when the SAD warned that it would gherao him. Even now the contents of the proposed legislation which will be introduced by the Congress in the Vidhan Sabha have not been made public to the stakeholders. This does not bode well for a healthy democracy. The CM should put the proposed legislation in public domain and also take consent for the same from farmer organizations as well as political parties. Not doing so will only give rise to apprehensions that the Congress government is playing a friendly match in conjunction with anti-farmer forces", Mr Dhillon added.
-PTC News