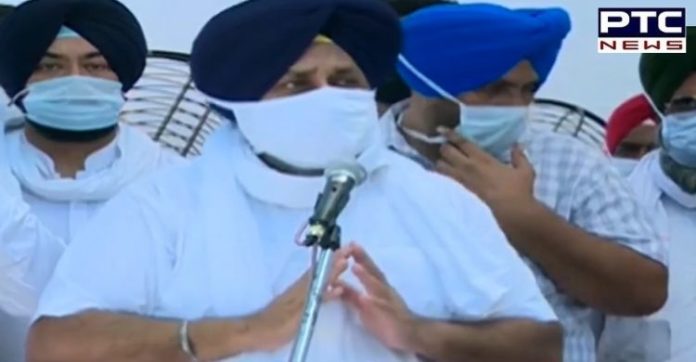 SAD Patiala Protest: Shiromani Akali Dal President Sukhbir Singh Badal on Friday led the protest against the laxity in the recovery of the 'Swarup' of Sri Guru Granth Sahib Ji which was stolen from Ardaspur Sahib gurdwara in Kalyan village two weeks ago.

He said that "the whole Sangat is here not for politics and no one should do politics on it. We are here to ask for justice." Sukhbir Badal also wanted to immediately find out where the stolen 'Swarup' was.

"Shiromani Akali Dal has been a trustworthy party for people of Punjab," the SAD president said.
#Live ਗੁਰੂ ਸਾਹਿਬ ਦੇ ਸਰੂਪ ਚੋਰੀ ਹੋਣ ਦੇ ਮਾਮਲੇ 'ਤੇ ਅਕਾਲੀ ਦਲ ਦਾ ਪ੍ਰਦਰਸ਼ਨ#SukhbirSinghBadal #Patiala #ShiromaniAkaliDal

PTC News यांनी वर पोस्ट केले शुक्रवार, ७ ऑगस्ट, २०२०
Sukhbir Singh Badal offered prayers at Gurdwara Dukhniwaran Sahib in Patiala before joining the protest in front of the office of the Patiala district police chief.
Also Read | Punjab Hooch Tragedy: Captain Amarinder visits Tarn Taran to meet families of victims of spurious liquor tragedy
The protest will be held daily with party workers from each constituency in the State participating in it.
-PTC News