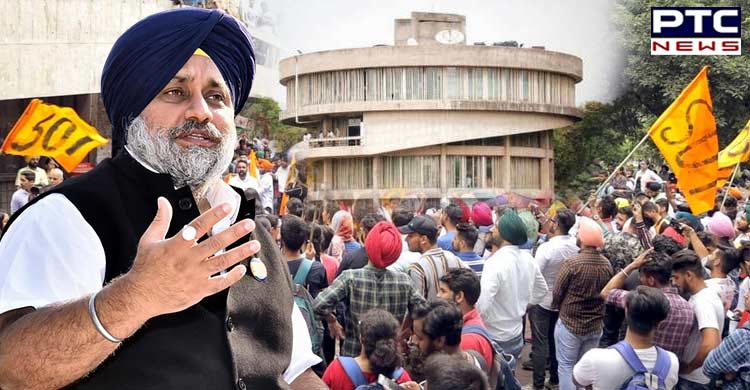 Chandigarh: Shiromani Akali Dal (SAD) president Sukhbir Singh Badal congratulated Students Organisation of India (SOI) for winning the Panjab University Students' Council elections and said the win was reflective of the popular sentiment of the youth of the State. The SAD President congratulated SOI presidential candidate Chetan Chaudhary for bagging the all important top post in the PU Campus Students Council (PUCSC). This the second time SOI has won the Students' Council election after 2015.
https://twitter.com/officeofssbadal/status/1169987463906873346?s=20
Mr Badal said students from across Punjab studied in the Panjab University and the result was truly representative of the mood of the youth of the State. He said the very fact that SOI had won against all odds and the NSUI had come at the fourth position in elections to the President's post spoke volumes of the  disillusionment of the youth with the Congress party.
https://twitter.com/bsmajithia/status/1169986184484798464?s=20
SAD General Secretary (Incharge Youth) Bikram Singh Majithia also congratulated SOI for the spectacular win. He termed the election victory as a positive and meaningful change. "This is a win for inclusiveness despite government efforts to influence the result".  The Akali leader said this during his visit to the PU campus along with Youth Akali Dal (YAD) leader Parambans Singh Bunty Romana and SOI president Parminder Singh Brar. Mr Majithia was given a rousing welcome at the Students Centre where he interacted with students.
https://twitter.com/HarsimratBadal_/status/1169982619515113473?s=20
Union food processing minister Harsimrat Kaur Badal also congratulated SOI on the remarkable win. Meanwhile SOI president Parminder Brar said earlier during the SAD- BJP government Mr Sukhbir Singh Badal had delivered on all promises made to students by releasing Rs six crore to improve infrastructure in hostels including establishing solar water heaters. He said the SAD would continue to work in earnest for the cause of students at every forum.
-PTC News