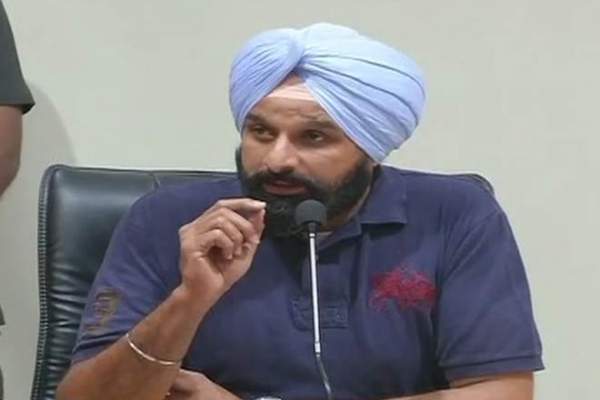 The Shiromani Akali Dal today  asked Finance Minister  Mr. Manpreet Singh Badal  to resign from his post is view of disclosures on Rs. 47000 crore debt made by his colleague and Cabinet Minister Mr. Navjot Singh Sidhu and said that he should gracefully accept his failure as Finance Minister of Punjab and tell people the truth.
In a strong worded statement released here today Former Cabinet Minister and the SAD General Secretary Mr. Bikram Singh Majithia said that disclosures made by  Mr. Sidhu have come as a shock for the Punjabis who were hoping for good days in view of repeated assurances made by Mr. Manpreet Badal that financial health of the state is improving.  He said that it  is not only a matter of  Rs. 47000 crore debt, if  we believe in the words of Mr. Sidhu  the state will be burdened with Rs. 1,17000 crores on completion of term of the present government. He said that this is clearly opposite to what Mr. Manpreet Badal was claiming during last two years on financial matters.
Mr. Majithia said that if the disclosures made by Mr. Sidhu are correct then Mr. Manpreet Badal owe an explanation on why he failed to disclose this status in state assembly while presenting his budget.  He said that this is not a lapse only but a clear attempt to misguide the house.  He said that instead of telling truth  during the budget presentation Mr. Manpreet Badal had made tall claims on savings by virtue of his austerity measures and increase in revenue but reality is exactly otherwise.
Mr. Majithia said that though this government has already cheated the farmers, youth, dalits, employees and almost all the sections of society on fulfilling promises made to them, what is more intriguing is that where this money Rs. 47000 crore has been spent in these two yeas.
He said that from the working of the Congress government it is ample clear that no development work has been initiated in these two years, only  lip service has been done on waiving of farmer loans and not a single penny has been spent on the welfare schemes, then where the money has gone ? " people of the state want to know the truth behind the borrowing spree of the Congress government," added Mr. Majithia.
The SAD leader said that fact is that Mr. Manpreet Singh Badal is utterly failed Finance Minister who has failed to give relief to even one section of society He said that Employees are waiting for DA, charges of electricity in Punjab is highest in the country, Industry is crying for relief and infact every section of the society is suffering from failed policies of this government in which finance is being mishandled by failed Finance Minister Mr. Manpreet Singh Badal.