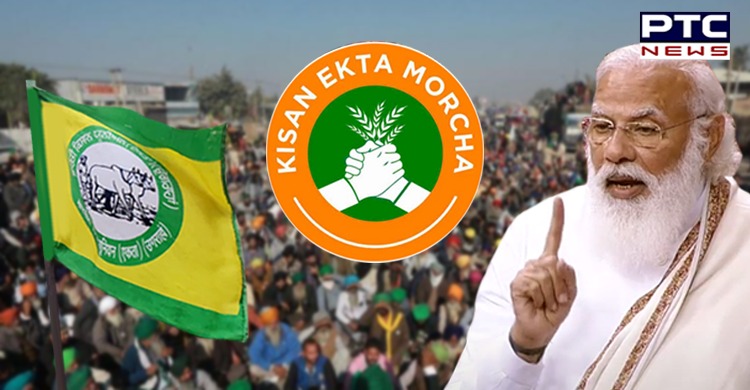 Samyukta Kisan Morcha (SKM) condemns insulting of farmers by PM Modi: Farmers would like to remind PM Modi that it is andolans that have liberated India from colonial rulers and that is why we are proud to be Andolan jivi. It is the BJP that never did any andolan against Britishers and they were always against the andolans, they are still scared of public movements.
Also Read | 60-yr-old man from Chandigarh arrested in connection with R-Day violence

They also point out that farmers would be more than happy to get back to farming if the government at least now accepts their legitimate demands, and that it is the Government's adamant attitude that is creating more andolan jivis.
Samyukta Kisan Morcha pointed out that empty statements on MSP will not benefit farmers in any way and that such meaningless statements were made in the past too. Farmers will benefit in reality and in an equitable as well as sustainable manner only if MSP is made into a legal guarantee for all crops.
SKM points out that the PM's FDI approach is dangerous too, even as we distance ourselves from any "Foreign Destructive Ideology". However, SKM stands with constructive democratic processes that uphold basic human rights anywhere in the world and expects similar reciprocation from all like minded citizens all over the world because "Injustice anywhere is a threat to justice everywhere".
Also Read | Farmer takes his life at Tikri border; blames PM Modi in his death note
SKM questions the commitment of the government in seriously and sincerely resolving the farmers' demands. It questioned the fact that the government is introducing the Electricity Amendment Bill 2021, despite assuring farmers' organizations of withdrawing the draft bill.
Samyukta Kisan Morcha notes that the huge turnout and support extended by Kisan Mahapanchayats in Uttar Pradesh, Rajasthan, Haryana and Madhya Pradesh are highly encouraging and the protesting farmers at the borders are strengthened by the same.

After Twitter accounts, music videos related to the ongoing farmers' protest have been removed from YouTube. We strongly oppose these efforts to suppress the voice of people.
-PTC News