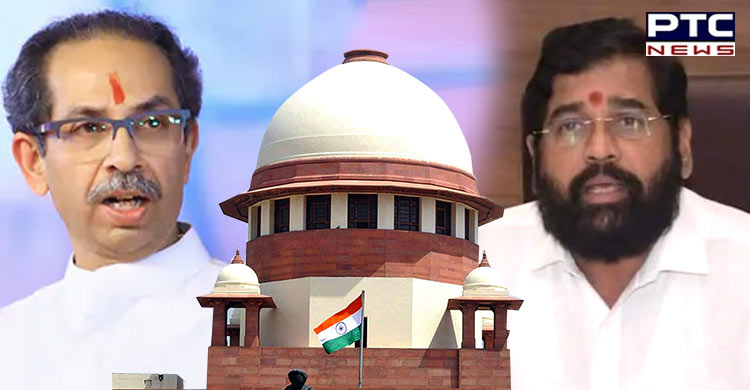 New Delhi, July 20: The Supreme Court on Wednesday posted for hearing on August 1 the petitions filed by both factions of the Shiv Sena relating to the control of the Shiv Sena party and the recent political crisis in Maharashtra, which brought down the Maha Vikas Aghadi (Congress-Shiv Sena-NCP) government in the state.

A Bench led by Chief Justice of India NV Ramana, Justices Krishna Murari and Hima Kohli granted time to Maharashtra Chief Minister Eknath Shinde-led camp to file an affidavit on the pleas filed by Shiv Sena chief Uddhav Thackeray-led faction. Senior advocate Harish Salve for the Shinde camp sought time to file a reply on pleas filed by the Thackeray camp and asked the court to post the hearing next week.
Also Read | India cuts windfall taxes on fuel exports as global prices fall
Hinting at the formation of a larger Bench in the future, CJI Ramana said, "Some of the issues, I strongly feel, may require a larger Bench. A larger Bench can hear the case."
The Supreme Court said the issues in petitions might require reference to a five-judge Bench. The Bench further said the Speaker would maintain the status quo and not decide on any disqualification applications.
The apex court also told the Legislative Assembly secretary to keep all records in safe custody. Senior advocate Kapil Sibal representing Uddhav Thackeray's camp told the apex court that every elected government in this country could be toppled if this case could be accepted. "Democracy is in danger if state governments can be toppled despite the bar under the 10th schedule," Sibal said.
Also Read | Punjab reports 356 Covid cases; 4 deaths
Meanwhile, senior advocate Harish Salve for the Eknath Shinde camp said inner party democracy had been throttled by disqualification proceedings. He has sought time to file a reply on the petitions filed by the Thackeray camp and asked to post the hearing next week.
-PTC News