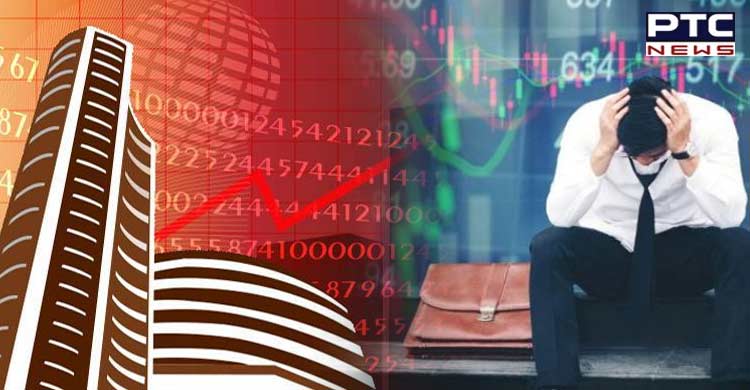 Mumbai, June 13: The benchmark Sensex in India fell 1404 points on Monday, owing to a selloff in global equities, which resulted in a loss of nearly Rs 6 lakh crore in the combined value of listed companies.

The 30-stock S&P BSE Sensex dropped 1404.39 points, or 2.59 percent, to 52,899.05 points at 12:29 p.m., down from 54,303.44 points the day before. The Sensex had opened substantially down at 53,184.61 points and had sunk to a low of 52,734.98 points earlier.
The benchmark index has dropped sharply for the second session in a row. On Friday, the Sensex had dropped 1016.84 points or 1.84 percent.
The Nifty 50 index of the National Stock Exchange fell 416.65 points, or 2.57 percent, to 15,785.15 points, down from 16,201.80 points the day before.
The Nifty had opened in the red at 15,877.55 points and had dropped to a low of 15,749.90 points earlier.
Investors' wealth has been eroded by around Rs 6 lakh crore as a result of the selloff.
Also Read: Pune rural police arrests Santosh Jadhav in Sidhu Moosewala's murder case
The combined market capitalisation of BSE-listed companies fell to Rs 246.12 lakh crore in midday trade from Rs 251.84 lakh crore, resulting in a market value loss of Rs 5.71 lakh crore.
Banking and financial stocks plummeted. Bajaj Finserv dropped 6 percent, while Bajaj Finance crashed 5.27 percent to Rs 5369.10.
IndusInd Bank slumped 5.32 percent to Rs 869.70 and ICICI Bank lost about five percent; State Bank of India declined 3.51 percent to Rs 445.60.
IT stocks were under a lot of selling pressure. TCS' stock dropped by about 4%. Tech Mahindra was down 4.37 percent on the day. The stock of Infosys was down 3.53 percent.
Reliance Industries Limited, the index's heavyweight, was trading 2.21 percent lower at Rs 2654.
Only four of the 30 equities that are a part of the Sensex were trading in the green. With minor gains, Nestle India, Hindustan Unilever, Maruti Suzuki, and Power Grid Corporation were trading in the positive.
Also Read | National Herald case: Congress workers detained ahead of Rahul Gandhi's ED appearance
-PTC News